Tamworth Bands History : 1988 :
November
Tamworth Herald - 04/11/88
Musicbox – Hail the Kings
TAMWORTH Arts Centre opens its doors on Sunday night to be a very unusual looking quartet of bands.
Local favourites Rape in Yellow will team up with local bands comprising King Woderick and the Yogots, Psychedelicatessen and The Cuckoo Spits.
These three new acts represent a refreshing outbreak of new talent during a generally quiet time on the local scene.
The one band you probably will know are Rape in Yellow who are positive OAP veterans alongside the other three. Heir appearances this year have been few and far between and they will be looking to re-establish themselves in a major way at Sunday's special party.
Best known of the new trio are King Woderick and The Yogots. This combo of extremely nice people (i.e. Dan Lee, Jon Lanz, Simon Byford and Tim Byford) emerged earlier this year with a cracking demo and followed it with a much admired Arts Centre show. This is their biggest date yet and the band are clearly looking forward to the challenge and proving once again that in their words they are 'unpigeonholeable'.
Teaming up with the Kings boys (dinky little thing they sent in above) are two bands this column knows admirably nothing. Psychedelicatessen who boat a truly marvellous name have played before at the Arts Centre under another equally strange name and they are a complete mystery while the Cuckoo Spits are described affectionately by King Woderick as being a 'total Smiths rip-off'. Whether they would agree with this billing is uncertain but it makes them sound intriguing does it not?
A four band tally then for just one pound. With the scene enjoying its customary pre-Christmas snooze an exhibition of three new bands and one good old one must surely tickle your fancy so make your way to the Arts Centre on Sunday and indulge in a spot of BOPPING!
Apolgies to king Woderick for the lack of the umlout on the second 'o' of Yogots, The band told me it was absolutely essential to the history of mankind that it wasn't missed out. Hence I missed it out.
Tamworth Herald - 04/11/88
Musicbox – SNIPS
Girl – Your big chance!
A young girls singer aged between 15-18 is being sought by a newly formed band in the Tamworth area. The group want a good fronts-woman for a band of the Transvision Vamp/Primitives/Blondie mould The band, being put together by a new local publishing firm called Info publishing want a girl who is prepared to take this very seriously. She must be willing to practise several times a week, must be unemployed and must have the full backing of her parents.
Tamworth Herald - 04/11/88
Musicbox – SNIPS
The Amington Inn is planning a series of blues-style free concerts in forthcoming weeks. This week (Tues Nov 1) The Mighty House Rockers were due to play at the pub and the next one on the agenda is Resurrection who will be at the Amington on Nov. 15. Everyone is welcome to attend.
Tamworth Herald - 04/11/88
Musicbox – SNIPS
The cute-kings Emma Gibbs are on the lookout for a new guitarist – and a punk cellist. If this sounds as interesting as it oughta contact Spencer.
Tamworth Herald - 04/11/88
Musicbox – SNIPS
Fetch Eddie have appointed their new drummer and as mentioned in last week's MUSICBOX he is Brendan the former sticksman of Musical Youth. The band are planning another coach to a forthcoming Birmingham show.
Tamworth Herald - 04/11/88
Musicbox – Mick Thunders Right Back!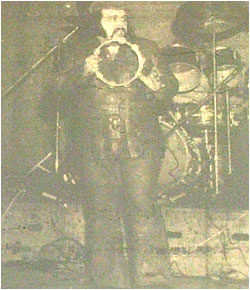 Review: Heavy Metal Thunder (Walthamstow Royal Standard, London)
In the beginning there was 'The Power and Glory' then came 'ICE', next 'Dickens'. And now, Mick Rutherford, frontman supreme, immortal of the Tamworth rock scene for nearly 20 years, has taken a deep breath, opened his mouth and the most recognisable voice in Tamworth begins to shine anew with new Metal Merchants – Heavy Metal Thunder.
Surrounded by musicians of excellence, this is Mick's finest vehicle yet. Paul Bainbridge, guitar wizard, sways with eyes closed, fingers dancing over his strings, milking the guitar, making it weep.
Mick Hannaby, tall, thin, resplendent in silver jacket, shimmies his way around stage, forcing his guitar to new heights. Ian Crawford playing 'the beast', the only way his drum kit can be described, grimacing with hate, some times sitting, sometimes standing, using sticks and fists pounding out a terrible warning. And even Mick Rutherford, with his trademark, a hat, lurching drunkenly around, pounding out a constant, incessant bass line, his voice, honed by years of live gigging, never better, together driving the crowd wild.
'The Preacher', 'What's Left in You', 'The Kara', 'HMT' from their Friday Rock Show sessions. 'Cardiff' a mosher's delight and 'Confused' a power ballad that brings the audience to their feet. You just can't mistake greatness.
I saw it in London, from a local band. Surely Heavy Metal Thunder will follow Wolfsbane into a record company's heart. I was told after the gig by one of the road crew that they're heading for Tamworth Arts Centre in November – surely the gig of the year. All you metallers beware, there's Thunder in the air. Heavy Metal thunder.
IAN ROBINSON
Tamworth Herald - 04/11/88
Musicbox –Mr. Ray Sheasby
MUSICBOX was very shocked and saddened last week to hear of the sudden death of Dance Stance manager Ray Sheasby.
Ray, will have been known to most people on the local scene for his never-ending enthusiasm and hard work for the band which he grew to love. Ray was understandably proud of the band's many achievements and indeed was responsible for many of them. Under his excellent and intelligent management the band released a superb CD single, played a host of top University shows and became known as one of the most stylish and exciting unsigned bands in the country. On a personal note, Ray always treated me with great respect and I always found him open, informative and genuine. His enthusiasm for the band was infectious and powerful and I am sure Y speak on behalf of the whole of the Tamworth area music scene in saying how sorry I am to hear of his death.
I feel I have lost more than a contact and I hope Dance Stance now go on to be bigger than ever as a tribute to the man who really put them on the way to the other side of paradise…
Sam Holliday
06/11/88
Rape in Yellow
King Woderick and the Yogots
Psychedelicatessen
The Cuckoo Spits
Tamworth Arts Centre
Tamworth Herald - 11/11/88
Musicbox – It's an end of year boomtime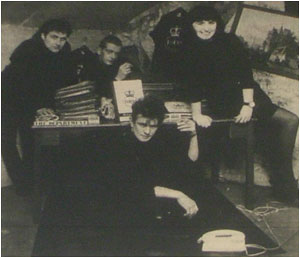 Christmas is coming and the local scene at last woke from its slumbers.
A massive amount of pre-Christmas gigs have been announced giving local rock followers a chance to see the likes of Space Seeds, DHSS, Scream Dream, Heavy Metal Thunder, A5, Emma Gibbs et al before they eat their turkey.
The latest outbreak of good news promises to make the last two months of this year far busier than the last six and looks set to make 1988 end with a rock and roll bang.
We will be aiming to give bags more info about these gigs nearer the time but in the meanwhile here is a taster of some of the shows you can look forward to seeing. There may well be others announced shortly but in the meantime clear you diaries and start filling in the following dates…
Tonight (Nov 11)
If you fancy a trip to Lichfield then tonight is the night because our own Spiral Eye are in action alongside Sutton's Jagged Heart and Kingswinford's Cloven Hoof. This is an FOD promotion taking place at Lichfield Arts Centre and entry for the three band show is a mere £2, Doors open at 7.30pm.
Sunday Nov 20
Tamworth Arts Centre opens its doors to the highly acclaimed Heavy Metal Thunder who are hoping to have a suitably heavy support act. The band have been widely praised in the national media as well as having a session on Tommy Vance's Radio One rock show and they are a very powerful and very heavy band. A good night out for anyone who likes their rock hard and undiluted.
Friday Nov 25
Back again and this time at Lichfield once more when FOD promotions present Wrathchild, September Rain and Wreckage.
Sunday Nov 27
A complete mystery here, a band who trade under the name of The Italian Band who will be making their Tamworth Arts Centre debut. More details when (and if) we get them.

Sunday Dec 4
Tamworth's heavy metal warrior's Kraze return to the Arts Centre stage again hoping to re-confirm their improved and exalted status now that the legendary Tim Latham has joined the ranks. According to my fellow scribe Martin Warrillow adding Tim to Kraze has been like adding Glenn Hoddle to Liverpool FC. Is he right? Soccer fans and metal fans alike will be able to find out on this night.
Wednesday Dec 7
A trip to Nuneaton is what you need to see the Catch 23 Christmas Party at Faradays Nightclub. The band are almost in residency there because they are so popular but it would be nice if the boys could join forces with one of these other Tamworth Christmas shows wouldn't it?
Sunday Dec 11
One of the most eagerly awaited pre-Christmas shows will bring together The Space Seeds and hopefully Scream Dream, two of the best bands to have emerged in 1988. Both will aim to leave the year with a bang and as I suspect both will ride high in the MUSICBOX poll to be launched next week this one should be packed to the Tamworth Arts Centre rafters.
Friday Dec 16
I don't have much details about this apart from the fact that King Woderick and The Yogots have booked the Arts Centre on this night. Once more we will give more details as and when we get them.
Sunday Dec 18
One of the most vaunted Christmas shows which features headliners DHSS, alongside a trio of tasty talents – King Woderick (again!), The Soil Brothers and Tamworth's answer to Bros, Stench. There are other added ingredients including the possibility of Buttercup acting as Father Christmas. A whoopee night at the Arts Centre is promised to all and sundry.
Thursday Dec 22
He return of the Sonic Noise Happening with their own multi-faceted Christmas Party. I don't know who will be playing at this stage but I am hopeful that the line-up will definitely include Emma Gibbs and an assortment of other original acts.
Friday Dec 23
A5 have booked the Arts Centre on this night and promise to bring with them a couple of top class local support bands to make for a varied pre-Christmas package.
Sunday Dec 25
A few shows on this day. Santa Claus and The Venison will be hitting the Chimney. The Real Non-Spitting Image Queen will hit the TV centre and Hundreds of Horrible Smelly Little Children will hit the roof when they realise that you have bought them the WRONG Master of the Universe toy.
In addition to all those shows, The Conspiracy are also lining up a couple of dates and don't be surprised if other local acts come out of the woodwork to provide you a real Christmas alternative. Got all that? Right now don't miss one of 'em.
11/11/88
Spiral Eye
Jagged Heart
Cloven Hoof
Lichfield Arts Centre
Tamworth Herald - 11/11/88
Musicbox – Reviews
Scream Dream – JBs (Dudley)
There was a disappointing turn out for what proved to be one of Scream Dream's better gigs.
After having to wait for what seemed like forever, the boys eventually emerged on stage, and launched straight into the intro, which was new and unheard before (well by me anyway!)
Songs such as 'When The Hour Comes', 'March Winds', and one aptly named 'The New One' topped the list, and the lads were soon in full swing.
With Duane's drumming coming over as the strong point of the evening, all of the songs were performed with the usual vigour and style.
All this and much more contributed to making the night a happy and successful event. Well done lads keep it up.
Review by Jane Beech.
Tamworth Herald - 11/11/88
Musicbox – Cutie Pie Corner!
Yep, this week's cutie pie award has been handed out to the legendary Barry Fox from Spiral Eye.
Barry is pictured here complete with Steve Austin t-shirt and a lovely smile.
I once publicly described Barry the coolest person in the Universe but I must ad it was BEFORE my eyes copped a load of this!!!
Tamworth Herald - 11/11/88
Musicbox – No pigeons please we're British!
Good night this. Here we had four original and enterprising bands none of whom could be conveniently slotted into those clichéd old MUSICBOX pigeonholes we all love so much. It made a nice refreshing change indeed and the size of the spikey leather-clad poseur crowd indicated that there are a lot of punters out there looking for a breath of air that doesn't feature a solitary pigeon.
First up were the Kuku Spits who lasted about as long as your average Milky Way. Their three song set was enough to indicate that when they start churning out one or two more ditties they may well be worth another much extended look. As it was they featured just about the sexiest drummer I have ever seen.
Next up were Psychedelicatessen who probably edged the whole evening as far as most people were concerned. They were a real triumph to these ears, all loud guitars, powerful screams and well-layered melodies. The influences were so numerate I won't waste time or space listing them but I was inextricably struck by the feeling that the lead guitarist and impressive motormouth played his axe very much like latter day Joy Division. Am I totally wrong? Maybe but I think I am right in saying that this is a very strong and exciting band indeed one who I feel will benefit enormously from repeated trips to the Arts Centre and one who should get better and better.
Third course on this elaborate menu was Rape in Yellow. And what a shock that turned out to be. Gone is the Bros look and the happy smiles and in has come an altogether more aggressive, powerful and modern sound. At times it was surprisingly punkish (far cry from 'Jivin' Jane' chaps!) and at others the bleak boldness of their sound was alarmingly strong. It wasn't a flawless show but it was a very brave one and if the band carry along this road with renewed enthusiasm I see a brighter future from their broader appeal. And who yes it was very pleasing to see the booming Batman behind the skins again. This man remains one of the best drummers ever to come out of Tamworth and his recent stick silence has been sadly deadening.
Completing the night was those nice men, very, very nice men from King Woderick. As predicted in this very column not seven days ago they were about as easy to define as the appeal of Marillion.
SAM HOLLIDAY
Tamworth Herald - 18/11/88
Musicbox – OK Folks, it's time to vote!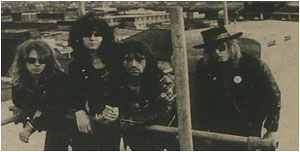 YES, O loyal MUSICBOX reader it's time to cast your votes once again.
For this week we are proud to launch the influential MUSICBOX poll, the one which all local musicians hope to do well in whatever they tell you publicly!
The poll, which attracts hundreds of votes every year is to find out exactly ho our readers like on a local and national basis.
In the past it has thrown up many, many surprises and has given MUSICBOX a good insight into what our readers want to see in the column. So a vote today could lead to a change in musical emphasis tomorrow so don't miss out. Here is a guide to the various categories but remember you are free to vote for any local or national bands or songs that tickle your fancy. The choice is all yours and here are the various categories we want to see your votes cast for…
Single of the Year
Pick your fave 45 rave from 1988 and slap it down on the form. Has the revolting Kylie tickled your taste buds or are you more of a Bon Jovi type? If not either perhaps you have a brain after all and we want to know in which direction your musical brain is pointing. Actually I am of the firm opine that this has been a weedy year for singles and there has been more tripe than triumphs. Fellow MUSICBOX scribes Martin Warrilow and Dan Collins have both chosen the same single – their favourite being 'Teardrops' by Womack and Womack with Martin also mentioning singles by Heart and Transvision Vamp. My choice is 'Everyday is Like Sunday' one of just a couple of decent moments on Morrisey's disappointing 'Viva Hate'. But the choice is all yours…
Album of the Year
Again a weedy year in my opinion and that is why I have only mustered a top ten choice this year compared to twenty in previous years. Still you may feel differently and you may feel you are spoilt for choice. Just pick the one that has hit you most in 1988 and let us know what it is. As a guide the MUSICBOX scribes chose – 'Follow The Leader' by Eric B (Dan Collins), 'If I Should Fall' by The Pogues and The Tamworth festival Album (Martin Warrilow) and my vote goes to Kevin Rowland. Are we all wide of the mark? Then tell us!
National Band
Just pick your favourite national or international act and vote for it. The Dan Collins choice is Sam Deed,a nd the Sam Holliday selection is (are you ready for a serious shock) The Stranglers. Choose yours and vote!
Local Band
The main part of the whole poll and the one that gets every local musician and rock fan talking. For the past couple of years The Dance Stance have ruled the roost but their lack of local action or profile will probably jeapordise their exalted status. Catch 23 must be in with a very, very good chance for hitting the TV screen, coming third in the National TSB contest and maturing enormously and who would bet against the enigmatic DHSS one of the most refreshing new bands in years. Elsewhere Battle of the Bands winners Scream Dream have had a massive impact in their first few months and have built up a devoted following as have the one-off and totally unique Spiral Eye. The Space Seeds will also be a good bet for success having impressed a wide range of people and if you're looking for the metal vote then you have to look to Kraze who have established themselves in just a handful of months as a major local tour de force. Fetch Eddie should also once again figure highly after their triumphant local shows and look also for The Conspiracy, A5 and Shellshock to do well. Other bands are bound to feature too but I have saved my band of the year until last. They are of course Wolfsbane. In this year they have secured a huge record contract, have hit America and have played a series of quite brilliant local and not so local shows. To deny them the Band of the Year award would be criminal because they have set an example to the rest of the local scene that you CAN get success
If you believe in yourself enough. They are the clear Sam Holliday choice for Band of the Year tipping my beloved Catch 23 and DHSS. Martin Warrilow elects Kraze while the MUSICBOX team's choice are completed by Dan Collins who has gone for Hamilton Hammond Experience. We are keen to see how you see so vote away…
Best Local Song
Again, the choice is all yours and to give you a bit of help I have chosen my top twenty here on this page. But you can vote for any song performed by a local band provided it is an ORIGINAL and not a cover version. My choice is the wonderful 'Hangin' On' by teen sex bombs Catch 23 which will be a Number One chart single within two years!
Best Local Concert
Make your choice from all the amount of Tamworth/Atherstone shows from the past 12 months. Was it the Wolfsbane farewell show, Kraze at the Arts Centre. Scream Dream at the Battle of the Bands or perhaps Stench at the Tavern? Or perhaps it was the Tamworth Rock festival as a whole. The choice is yours so make it…
Local Music Personality
You will notice on the form this year that there isn't a section for this. The reason is that I have decided to give the award to Dance Stance manager Ray Sheasby who died three weeks ago. He did an awful lot for this band (and helped other groups including Wolfsbane) and I would like him to be remembered as the Local Music Personality of 1988.
Right that's the lot. All the above are our subjective tips and choices but we now happily hand over the mantle to you. Think about who you want to honour and vote. Local musicians have done a lot for you over these past 12 months so how about honouring them by way of repayment? Musicians too will be asked to vote to let us know their feelings and then we combine all the entries we should have a pretty rounded idea of what the Tamworth music public thinks of the national and local scene.
This is your big chance to make someone happy. DO IT AND VOTE!
Hangin' On…Catch 23
Sweet Sixteen…DHSS

Autumn Girl…Space Seeds
Sentinel///Spiral Eye
Dead Men…Wolfsbane
No Good For Love…Fetch Eddie
Tower of Love…The Searching
Don't Tell Me…Catch 23
A Little joy…Parade
Obsession…Scream Dream
DHSS…DHSS
Enchanted…Space Seeds
Mind Disease…King Woderick
In Circles…Emma Gibbs
Thunder Town…The Macoys
Innocents…The Conspiracy
Lovin' You…Sa Sa
Dance 'til Dawn…Kraze
Coz I Love You…Kubla Khan
19…Steve Adams
Tamworth Herald - 18/11/88
Musicbox – Mick's men thunder in!
Heavy metal returns to Tamworth Arts Centre with avengeance on Sunday night.
The Centre will be taken over by Mick Rutherford's latest combo Heavy Metal Thunder.
The group have played a string of wildly successful metal shows…
They have followed the Wolfies in having a session played on the Tommy Vance Radio One rock show and their mugs have been featured in a host of national magazines.
The name of the band sums up what they have to offer but general non-metal fans should find much to enjoy from a groups packed with experiences and pedigree.
At time of going to press it wasn't clear who would be joining forces with the Thunderous metal men but whatever happens it promises to be a loud 'n' powerful show for rock fans to enjoy.
It is due to start at about 8pm on Sunday but check with the centre for more precise details.
20/11/88
Heavy Metal Thunder
Tamworth Arts Centre
25/11/88
Wrathchild
September Rain
Wreckage
Lichfield Arts Centre
Tamworth Herald - 25/11/88
Musicbox – First Step to glory


ONE of Tamworth's most durable and popular bands return to the Arts Centre on Sunday night boasting a new name, a new set and a new line-up.
The Conspiracy – who now officially trade under the name of The First Conspiracy – will line up alongside fellow Town favourites Spiral Eye and much vaunted Birmingham band The Blue Street Raiders.
Headlining the show will be The First Conspiracy, making their first major Arts Centre appearance for several months. The band regard the show as very important, hoping it will reassert them as a major force in the area. The band have spent a long time getting their new line-up together and they hope to have one or two surprises up their sleeves to impress their large group of supporters.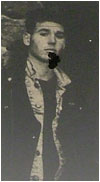 "WE all feel very excited about the way things are going at the moment, "admitted Lisa Cooke. "We are all very enthusiastic and we have spent a long time planning for this series of shows."
The first thing people will notice about the band that will be different (apart of course for their name) is a new drummer. The excellent former sticksman Sonny had to leave the band due to his imminent departure to live in Canada but his replacement youthful former Great Express man Simon Harvey – has fitted in marvellously.
"We are all obviously disappointed about Sonny, but Simon has come in and done really well. He is a superb drummer and we all get on with him really well so the good atmosphere within the band has continued." Said Lisa.
As sometimes happens, a new member brings new enthusiasm and the band are fired up again to try and make a go of it. There are new songs promised and a possibly more visual show which the First Conspiracy hope will combine to really set them on course for local and national – glory.
"Everyone is really keen too go as far as possible and we are certainly looking forward to Sunday's gig. Said Lisa. The show on Sunday night will be the latest in a short series by the First Conspiracy. We apologise for missing out on the band's other dates which was caused by a certain MUSICBOX Editor being away for the past fortnight.
Joining the First Conspiracy will be Spiral Eye and The Blue Street Raiders. Spiral Eye who I am reliably informed are not now called The First Spiral Eye! Will need very little introduction and their unique (for it is definitely that) sound is certain to warm up the watching ensemble on what should be a very cold night. More about them I shall not say – if you've seen them you will know what to expect. If you haven't then expect the unexpected.
Completing the Sunday night line-up ate The Blue Street Raiders. This Birmingham-based band come with a very warm recommendation from First Conspiracy guitarist roger Moors who reckons they are brilliant. According to the band the group sound like a mixture of Hendrix and the Georgia Satellites and such is their status that they are soon to play some major European shows. They should add a powerful ingredient to Sunday's show and with that sort of musical pedigree look set to boast an already large crowd.
So, that's the score for this one. Three bands all of known quality and all of considerable power. Spiral Eye will be aiming to submerge you into their tantalising undergrowth, the Blue Street raiders will be out to guitar you to death and The First Conspiracy will be aiming to prove that a new name, a new line-up and a new set can lead to new and exciting things.
Sounds a terrific night. See you there.
Tamworth Herald - 25/11/88
Musicbox – Seeds put Martin into space…
SPACE SEEDS lead singer Martin Kelly has left the band due to the time honoured "musical differences". And he has been replaced by former Macoys and Great Express frontman Julian Amos.
Martin-s departure revealed this week by band spokesperson Mark Mortimer, is something that Mark says had become inevitable in recent weeks.
"It was pretty clear that Martin had different ideas and different goals as to how the band should be, and therefore it was felt that it was in everyone's interests if he left".
Said Mark.
Julian's arrival is an indication of the band's determination to keep the 'dual harmony' style that has marked their early steps, and while the new man fits in, Mark Brindley will take up the vocal chores at upcoming gigs.
The changes put the band's Christmas with Scream Dream show at the Arts Centre on December 11 in some doubt and a date in Derby just before Christmas has also been scrapped.
"We are trying to get something together for the Arts Centre show, but if not there might have to be a replacement band," said Mark.
Tamworth Herald - 25/11/88
Musicbox – SNIPS
The hugely likeable Kubla Khan are back!! The band have been busy lately auditioning new drummers and they have finally found one if the form of Jason Bedford from Atherstone. They are now looking for a male or female singer and they are keen to find out more about the legendary undiscovered talent of Samantha Law. The band add that they are already looking forward to next year's Festival. Hopefully we will hold a meeting straight after Christmas to talk all about that!
Tamworth Herald - 25/11/88
Musicbox – SNIPS
Creepiest and best letter of the week has come from a new band called The Big Sky. They have asked me to put a request for a new bass player and singer into any: 'super, amazing fantastic' MUSICBOX column. If you do this they add: "if you do this 'they add' it will be your claim to fame in years to come that you started up such an important band in the British Music Industry. Fair enough Tim, The Wig and Rob, The Big Sky, but you never out a number where people can contact you.
Tamworth Herald - 25/11/88
Musicbox – SNIPS
Naked Death Plunge are still on the lookout for new drummer. I cannot believe that no-one out there is into heavy metal and wants to drum. Phone me right and ring.
It seems Scream Dream were last week supported by a band fronted by the lead singer of the Jesus and Mary Chain. The group –calling themselves the Express Way – were in Paul Keeton's words 'pretty good'.
Tamworth Herald - 25/11/88
Musicbox – SNIPS
The First Conspiracy are due to play at JB's Dudley on Monday night.
Tamworth Herald - 25/11/88
Musicbox – SNIPS
Fetch Eddie and Catch 23 are joining forces on Sunday night for a special and major Birmingham show. Our details this end are a bit sketchy.
Tamworth Herald - 25/11/88
Musicbox – SNIPS
Right if you have now read all these snips and you have nothing else to do apart from read the Brilliant Sports Pages (Edited by Sam Holliday whoever he is)then vote on the form below. Go on. Don't just think about it. VOTE!!
27/11/88
The Italian Band
Tamworth Arts Centre
28/11/88
The First Conspiracy
Tamworth Arts Centre