Tamworth Bands History : 1988 :
September
02/09/88
Dumpys Rusty Nuts
Shock Promise
Scream Dream
Lichfield Arts Centre
02/09/88
Sonic Noise Happening
Emma Gibbs Loves Badges
Ruby Blaze
The Outside
Flowers in the Attic
The Eppies
Ferocious Apaches
Tamworth Arts Centre
Tamworth Herald - 02/09/88
Musicbox – Six band show for new sensation seekers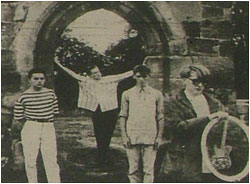 TAMWORTH Arts Centre tonight (Friday) stages a unique six-band show aimed at anyone who rejects the established town music scene and craves for something different.
Actually LIKE the local scene, it would be unfair of me to attempt to describe or dilute what the concert IS about so I will leave it up to Rob Cross and Mark Hynds to give you the details.
The floor is yours boys to SPOUT!
Hello Sam,
After this year's Festival (undoubtedly the worst ever) it seems the Town's music scene is slowly grinding to a halt with the same old people under different labels but none the less desperate for new ideas, decent tunes and above all enthusiasm.
In an attempt to remedy this we are organising a 'sonic noise happening'. On September 2 at Tamworth Arts Centre, bringing together six groups who all share a similar attitude to music endorsing youth, enthusiasm and arrogance, and other important punk ideals which seem to have been forgotten in a fashionable haze of studded leather and spiky hair.
Six bands are involved including four making their first live appearance. The bands are:
Ruby Blaze: Young, enthusiastic rock noise, with a telling edge.
The Outside: Hard, satanic, fumbling guitar blast.
Flowers in the Attic: Hurtling guitar meets Velvets trash melodies.
The Eppies: Howling mad avant garde dirge trash scuze.
Emma Gibbs Loves Badges: True pop with arrogant appeal, something to make you think you saw God.
Ferocious Apaches: Sonic metals sub-catatonic soundheads.
The whole things starts at seven and costs just 50p, because there are six bands playing be early – first band on stage about 7.30. Also free magazine explaining the ideology behind the night and future hopes.
Could you please give this as much space as possible as it is the only new thing to happen in Tamworth for ages.
It's a direct response to the apathy in the local music scene and all those people content to wait until the next festival and their fifteen minutes of 'fame' in the Castle Grounds.
Participate, organise, get involved or get out of the way.
Sonic love.
Mark and Rob
Tamworth Herald - 02/09/88
Musicbox – Fetch the pop
TWO of the area's most established bands – Fetch Eddie and A5 – team up with a new Tamworth pop group on Sunday night for an interesting looking three band show at the Arts Centre.
The new band making their Town Centre debut are Sa, Sa, a four piece with a whole host of influences from Tamla Mowtown to modern day chart music.
For Sa, Sa it will be a very interesting and nervous night, but for the other two bands it will be somewhat of a less daunting experience.
Fetch Eddie of course have grown from strength to strength over the past few months and they now have a large and loyal following among Tamworth, Atherstone and Birmingham audiences. Only last week they played their second show at the famous Hummingbird (alongside Rape in Yellow and The Searching) and they are currently recording a special demo for CBS Records.
A5 will also prove a draw on the night. Their appearances in the Town are less frequent than in the past which mean they always tend to bring a surprise or two when they hit the stage. Basically, it is commercial guitar-driven post-punk sounds with a cutting edge and some very nice toons.
As for Sa, Sa, well they prefer to let people make their own mind up than put themselves in any convenient box. A couple of the members have been playing in bands for a long time but guitarist and singer Steve Holland finds it hard to put his finger on what makes Sa, Sa tick…
"I can't really describe our sound and it will be interesting to see what Tamworth audiences make of it," said Steve.
The rest of the band is made up of Steve Parkin (bass), Mark Ransome (keyboards) and a newcomer to the local scene, Lee Preece, who hails from one of Tamworth's most famous footballing families.
Sa, Sa. Fetch Eddie and A5 can e seen together at the Arts Centre on Sunday night and fine show in prospect. Get along and get smiling.
Tamworth Herald - 02/09/88
Musicbox – Back to the Point…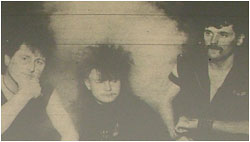 ONE of Tamworth's longest-established bands make a return to local action next week.
Breaking Point, for a long time Tamworth's premier holders of the passion torch, will be in action at their native Tavern in the Town on Thursday night.
It will only be the band's second Tamworth show this year and they have promised fans new and old a real treat.
"We have got quite a loot of new songs and we want to show people that we haven't gone away and we are still raring to go," said the band's ever-enthusiastic bassist Daydo.
The band will once again be showing off the relatively new drummer, Dave Miller. Dave who hails from Burton is the latest in a long string of Breaking Point drummers but fellow members, Daydo and Kev Briggs, believes he is a man to stay – and a man for the future.
So if you want to check out the all-new Breaking Point, complete with a new set and a newly sharpened confidence, the Tavern in the Town is the place to be on Thursday night.
Tamworth Herald - 02/09/88
Musicbox – "I heard it through the Grapevine"
This week's latest batch of rock and roll rumours on the local scene include…
Tim Latham is being mooted as a possible replacement for the departing Kraze axeman.
DHSS are planning a series of concerts shortly but will probably stay away from local stages for some time.
Former Shellshock drummer Bruno Edwards is starting a career in competitive kart racing.
Rob Cross may be the man in charge of the new Rathole.
The Beatles will NOT be reforming again this year.
Tamworth Herald - 02/09/88
Musicbox – Snips
"Send me a skipping rope now!"
WOLFSBANE have hit America in a big way. They arrived in the US of A and after spending hours trying to convince customs men of who they were and what they were doing they then proceeded to get through three different cars in as many days. They are now firmly settled in a plush apartment block complete with swimming pool, sauna and gym and they have already had their first face-to-face meeting with their label boss Rick Rubin. He has already modified Wolfsbane's favourite 'Manhunt', altering the drumming and turning in into (in Bayley's words) a real song. Meanwhile the band have been in touch with 'base' with one or two odd requests. The most intriguing was by Bayley who asked for a skipping rope to eb sent over the Atlantic, Jase The Ace's mother the woefully unsuspecting Barbara Edwards, believes Bayley wants to get fitter but Sleazebox is more suspicious. It's AMAZING what you can do with a skipping rope…
Tamworth Herald - 02/09/88
Musicbox – Snips
A whole array of local bands are due to take part in a special charity show in Nuneaton this weekend. DANCE STANCE, CATCH 23, A5, HEAVY METAL THUNDER and the SPACE SEEDS are to join forces with a number of Nuneaton acts for the charity bonanza. Details are a bit sketchy this end I'm afraid because of a couple of changes in the line-up running order so I suggest you contact the bands themselves for the minor details (i.e. who's on when, where and at what time.
Tamworth Herald - 02/09/88
Musicbox – Snips
Young female singer SAMANTHA LAW who has still failed to find an established band to join, has decided to go about it another way. She is now interested in forming a new band altogether and she is interested in talking to any pop musicians out there who are keen to get involved in a new group. So, if you can play guitar, bass, drums, keyboards or whatever and want to help form a new band why not give Samantha a ring. I am determined to find this girl a band so do your best hey!
Tamworth Herald - 02/09/88
Musicbox – Snips
The almost (and I stress almost) legendary Dave Lee Roth's Jockstrap has written to MUSICBOX extolling the virtues of metal people KRAZE. His summary of the band (and I have removed the more lustful comments on the ladies) reads:
"They really have everything you could wish for. Hooklines that are strong enough to catch pike on, guitars that creep up on Steve Vai and kiss him on the butt…two backing singers who radiate confidence and sex to the point of eroticism and Mitch Michaels who is all haircut and microphone." According to dazzling Dave – "How many people are kicking themselves for missing Wolfsbane when they were a small club act? Plenty I'll bet and it will be the same people kicking their own butts when raze are signed."
Fair enough Dave – but what's a butt?
04/09/88
Fetch Eddie
A5
Sa Sa
Tamworth Arts Centre
08/09/88
Breaking Point
Tavern in the Town
Tamworth Herald - 09/09/88
And now for something completely different…
Arts pioneers stage an amazing show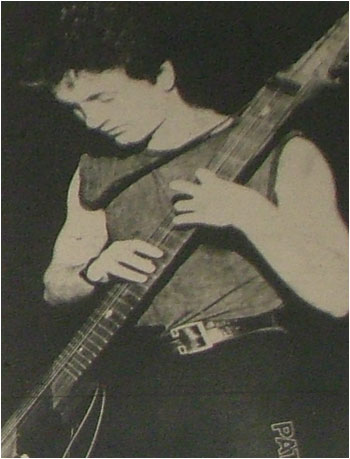 ACTORS, musicians and artists from all over Tamworth have pooled resources to mount a unique show which will be staged not only at venues throughout the town but also in Lichfield and Birmingham.
'Metamorphosis', based on the classic story by Franz Kafka will be performed at the Arts Centre on Wednesday, Thursday and Friday September 21 to 23 before going on a grand tour of school, youth clubs and neighbouring towns.
In the band are Paul O'Loughlin, guitar, Adrian Goodman, percussion, Nigel Roe, synthesiser, Judith Johnson, flute and Dave Caswell playing the Chapman stick, a long instrument made of wood whose ten strings are tapped, not plucked.
SUE FISHER
Tamworth Herald - 09/09/88
Musicbox – Spreading the Seeds of hope

THE Space Seeds make their eagerly-awaited debut on Sunday night when they spearhead an exciting Arts Centre show.
Space Seeds will team up with fellow new boys The Macoys and the now legendary Spiral Eye for a triple bill which promises to produce a packed Arts Centre.
Spiral Eye and The Macoys are certain to draw a lot of support under their own steam but clearly most of the attention and curiosity will be focused on the Space Seeds.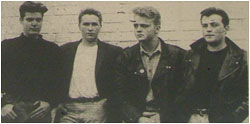 The group originally formed by former Great Express mastermind Mark Mortimer, has blossomed into a seven-piece combo packed full of musical experience. Mark, who is extremely experienced himself by now, admits it had been a revelation to work with top quality professional or semi-professional musicians.
"I have learned so much it's been like taking an O'level in music," he said, "Its been a real pleasure to work with musicians of this calibre and it has been an exciting period for us all."
The fellow Space Seeds are Matin Kelly, Mark Brindley, Stu Pickett, Alan Hodgetts, mark Allison and Martin Cooper who between them play guitars, keyboards, brass and rhythm. And what sort of sound do they produce? For once Mark is not able to make a direct answer.
"It's just impossible to label it," he said. "It is by a mile the most commercial music I have even been involved in, but it certainly is not throw-away pop music," he said.
"Tamworth bands at the moment seem to fit loosely into either the rock or the alternative camps and we are not either of those," he mused. "There are elements of both in our sound but we have no natural market which is why it will be interesting to see people's reactions."
The band will be parading a set of around 45 minutes including classic songs like 'Autumn Girl' and all apart from former Great Express number 'Black Flower' will be new to local gig-goers.
Whatever happens on the night one thing is certain – Mark Mortimer's previous outfits (including the Dream factory and The Great Express) have had a profound impact on the local scene. I suspect this new connotation could even be his best yet.
Another relatively new outfit who will grace the Arts Centre stage on Sunday are The Macoys. Rather like Mark Mortimer, the Macoy members have a long and proud local tradition in bands and have consistently turned up in strong, powerful pop bands. This new one combines the best of their old influences with a tougher new modern edge that gives a real bite to their pop base. This will be their first Arts Centre showing and once again I suspect it could be a concert of some note. They are keen to make their mark as soon as possible and in front of such a potentially big crowd. Sunday night might be the ideal time to get their success story started.
Finally Sunday night throws the (reaches for the Thesaurus) mesmerising, bewitching, mystic manifestation that is Spiral Eye. The band who are NEVER going to be an easy proposition to discuss or describe have become a legend in their own purple haze and should provide a glittering edge to the whole show.
So, three of 1988's most interesting acts on one unique line-up. It promises a great deal and will almost certainly deliver such.
Can you afford to miss it? Of course not so get yourself down to the Arts Centre on Sunday night and see the Seeds start their exciting growth.
Tamworth Herald - 09/09/88
Musicbox – "I-I want to be, Anarchy!"
A sonic noise happening – Tamworth Arts Centre
FIFTY-pence to get in, a large crowd of like-minded people (me included), a seedy looking Arts Centre and a tiny vocal P.A. This is what we want. The first band, The Outside, were playing their first gig and cam from Yardley, Coventry and wait for it Sutton Coldfield, they town where you're an anarchist if you've only got a six-bedroomed house. They were quite exciting.
Second band on stage were The Yogots, in my opinion the highlight of the evening. Another debut band, brought in at the last minute, their sound was different and new and single like 'Wildlife', 'Mind Disease' and 'Chapel Street' stood out from everything else. I don't really think The Yogots fitted in perfectly with this 'happening'. They played too well.
I couldn't find out the name of the third band, but a suitable name would be 'Black ****'…while the fourth band, I can't remember their name which shows how forgettable they were.
And now, what should have been for me, the highlight, Emma Gibbs loves Badges. This was a real disappointment. Besides only doing two songs, this was 'Emma Gibbs Go Folk'. I expected Lee Revelle to stick a finger in his ear, put on a pair of moccasins and start brewing apot of dandelion tea. He denied afterwards , but I can exclusively reveal, that Lee Revelle sings in an American accent, I was appalled.
And finally, Ferocious Apaches. The band were absolutely brilliant. For me they can't do a thing wrong, their music is so full of youth, enthusiasm and arrogance and other important punk ideals, which seem to have been forgotten in a fashionable haze of studded leather and spiky hair. The anarchic aura that shines from them clearly proves that these are people who, even though they were only eight or nine years old at the time, were there in 1977.
As a postscript to the fine performance of the Ferocious Apaches, will Rob Cross have to get a new guitar and white polo neck jumper out of his Mum's catalogue? (He actually changed into his stage gear before playing – anarchic or what!)
And as for Gavin Skinner, as nobody know who he is anyway, what's the point of wearing a wig?
In conclusion, I am sure the members of the festival bands would be interested in knowing what their critics can do themselves. I went to this 'happening' with a totally open, unbiased mind as, although I am part of a festival band, I do regard the true ideals of punk as being paramount in one's life. It encouraged me to see such a large audience of young enthusiastic people at the Arts Centre, but the bigoted, patronisingly aloof and arrogant attitude of certain people is frankly, embarrassing. It is true that the Tamworth music scene is not the most innovative, enlightening or radical scene there is, but enthusiasm cannot be labelled apathy, surely blanket criticism is more apathetic.
EDWARD IAN ARMCHAIR
Tamworth Herald - 09/09/88
Musicbox – What a tasty trio of talent
A5/Great Divide/Sa, Sa – The Arts Centre
AFTER spending all afternoon indulging in some serious drinking at a Christening (congratulations to John, Angela and especially Anna Zsigo) the LAST thing on earth I needed was a gig.
But duty (or something equally perverse) dragged me out of bed to the Arts Centre and I was extremely glad it did. For here was a gig which was a little different from the norm and featured three separate musical formats under one exciting banner. It went something like this…
A5
One of their better sets methinks, mainly because of the OTT Rikk Quay mixing which brought out a lot of space and diversion in the A5 set. For once the band's trio of ladies made a beeline into the ears (and quite a successful entry it was too) and it helped give the band a depth and strength that broadened not only their sound but their appeal…guitar-based new wave had a stirring tune and an intoxicating atmosphere.
Sa Sa
A very accomplished show from a band whose debut-making nerves could not hide an obvious and promising talent. What we have here is something unique to Tamworth – a pure, unabashed and unashamed pop group – the sort which normally appeals to people who NEVER go to local concerts. Actually those that did make the effort on Sunday seemed very impressed by Sa Sa who came over as tuneful, talented quartet capable of writing, well-structured, clean, clinical pop music. Best tracks of all were the splendid 'Loving You' and the surprisingly gritty 'Its So Hard' which saw some spirited playing by guitarist Steve Holland. A word also to young drummer Lee Preece who, making his first-ever live appearance, turned in a superb show full of youthful enthusiasm and genuine, fluent talent. A fine show Lee and a fine show all round. A band to watch.
The Great Divide
And Great is the operative word. What we have here is the best thing to come out of Lichfield since the A51, a magnificent group who ooze three powerful qualities – class, style and refinement. Their influences clearly include a host of modern pop bands such as Orange Juice, Lloyd Cole, UB40, The Farmers Boys and so on, but it still sounds pleasingly fresh and alive. Their songwriting quality is staggeringly consistent peaking with 'Working Town' which is an absolute stormer. Elsewhere the band look superb, have a pleasing onstage persona and humour and come over as a pop band who shine like a beacon of tuneful hope in a national sea of pathetic pop. One hell of a group this, now just watch them GO!
SAM HOLLIDAY
09/09/88
Gig for Life
Dance Stance
Space Seeds
Nuneaton Co-op Social Club
Tamworth Herald - 09/09/88
Musicbox – SNIPS
Dance for Charity
TOP band Dance Stance and The Space Seeds spearhead the second special 'Gig For Life' concert being held at the Nuneaton Co-op Social Club tonight (Friday). The charity show in aid of the Paul Walker fund and the George Elliot Hospital Coronary Care Unit, costs just £1 to get in with all the money going to those excellent causes. Last week's first gig for the event – where our own Heavy Metal Thunder and A5 stole the show – was a fine success so why not get along tonight and enjoy this one?
Tamworth Herald - 09/09/88
Musicbox – SNIPS
A rare event happens tomorrow (Saturday) a gig in Atherstone, The event at the Kings Head pub is part of an all-day fundraiser which climax on the night with the appearance of local heroes Catch 23 and A5, A god time is promised to all that attend and as Atherstone is not exactly renowned for having mega amount of gigs, a big crowd is a certainty. The bands are expected to be on between 8-10pm.
Tamworth Herald - 09/09/88
Musicbox – SNIPS
A new band, which includes members from Tamworth and Coleshill are looking for a support band to join them at a future Arts Centre concert. The new group, Press, have a slick, polished, modern pop sound which they say has influences including Simple Minds, Level 42 and Simply Red and they are keen to find someone of a similar nature to join them in double-header.
Tamworth Herald - 09/09/88
Musicbox – SNIPS
A new Tamworth thrash band, Chemikill are on the lookout for a lead singer influenced by the likes of Metallica and Slayer. The band are planning to do a demo and gigs in the near future and are keen to recruit a new member as soon as possible. If you like the bands described above and fancy your chances behind the microphone then why not give Anthony Hill a ring.
Tamworth Herald - 09/09/88
Musicbox – SNIPS
Tamworth favourites Scream Dream take their sound onto the road again next week when they team up with The Children in a special show at Charlottes in Leicester. The band will be running a coach at cost price only (that's £3 per seat) and if you want to book a slot on it, contact band members as soon as possible.
10/09/88
Catch 23
A5
Kings Head, Atherstone
11/09/88
Space Seeds
Scream Dream
The Macoys
Tamworth Arts Centre
Tamworth Herald - 16/09/88
Drug-pushing lyrics are outlawed
Town nightspots put ban on 'acid' pop
TAMWORTH nightclubs and bars have slapped a ban on new form of pop music which urges youngsters to take the mind-blowing drug LSD. Both town MP David Lightbown and police chief Supt. Roy Burton have applauded the actions of local disco owners.
The music called 'Acid House' after the street name for the dangerous, man-made hallucinogen – is sweeping through clubs in London and Birmingham, and is starting to reach nightspots in smaller towns.
Supt. Roy Brown – head of Tamworth police said "We obviously condemn this music and applaud the actions of those who have banned it. Anyone who attempts to cash in on weak young minds in beneath my comment."
And MP David Lightbown labelled Acid House 'bonkers' and added: "I am firmly of the belief that it should be banned, LSD is a very dangerous drug."
Tamworth Herald - 16/09/88
Musicbox – Creatures of the night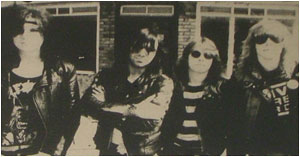 The debut album from Wolfsbane looks set to his the shops at the start of 1989.
The was the opinion of the band's home-sick bassist Jeff Hateley, who last week dragged himself out of the Californian sun to ring Musicbox with an update on the band's activities.
Jeff, who admitted he was missing 'loads of things' from home, said that the band were now settled in their new and somewhat strange lifestyle. For a start, the night is no longer for sleeping…
"Rick Rubin, our producer is a vampire, a real nocturnal animal," said Jeff. "We have to work throughout the night, which we don't mind because the days are so hot."
The band are currently in 'pre-production' for their first album which has the working title of, (wait for it…) 'Wolfsbane'. Pre-production means getting all the songs sounding as they want them to BEFORE they go to the studio, to save time and inevitably cost.
"This is certainly the best way of doing it because studio time costs a fortune," said Jeff.
"The studio we are recording at is excellent, it is the Sound City at LA."
The band expect to record 15 songs in all, ten of which will be selected for the album which could be in the shops by February."
In the meantime the bands 'Wasted But Dangerous' demo should be released as their first official single this week. This was recorded before the band's Def-Jam involvement and is seen as a useful way of keeping Wolfie fans on their toes while the band are away.
And, talking of away, what do the group think of America?
"The rest of them seem to be getting well into it, but I'm a real traditional Englishman and I'm not so sure," admitted Jeff.
"We are all puzzled as to how we will go down though because audiences, and bands over here seem so tame and laid back and most of the groups are awful."
The band are hoping to be back in the UK sometime before Christmas, but their plans are wide open at the moment.
"We are not sure exactly what we are going to do in the near future, but we can hardly wait to play live again. We are particularly keen to play in America because we think the crowds are going to be amazed," said Jeff.
The bassist 'Bombshell' concluded the interview asking all about the local scene and saying he was looking forward to coming back as soon as it was feasible.
In the meantime he would have to suffer 80 degree temperatures, girls from another planet, recording with one of the world's greatest producers and living the life of a pampered rockstar.
Rock and roll! Who needs it?
Interview by Sam Holliday
Tamworth Herald - 16/09/88
Musicbox – Review Special
Space – the final frontier?
The Space Seeds – Arts Centre
IT'S just NOT what you expect. With a name like The Space Seeds and with personnel like messrs. Brindley and Mortimer the last thing you expect is state-of-the-art modern pop music. In fact the only way you can fairly judge this outfit is to forget all about the past history on those involved and just listen to what your mind rather than your memory is telling you about what you see. So leaving your pre-condition in the bathroom, what then can you say about The Space Seeds? Well, for a start, it is extremely slick stuff. It is pop music without fear of musical contradiction, a sound designed for the widest possible audience and entirely premeditated as such. The band are aiming to go right for the jugular of the chart sphere via well-crafted skilful pop tunes which have class and culture. If we must hark back to the past it is far closer to Mark Mortimer's Dream Factory dream than his Great Express phase and is clearly aimed at the sort of audience which would favour the former rather than the latter. Best number of a well-received and professionally executed set was the superb 'Enchanted' which rose majestically out of the collection and really lived up to its name. Overall I was left feeling that this is a band of some quality but one who will never probably gain their fullest appreciation in Tamworth. There are too many conflicting ghosts in the pasts of some of the Seeds to ever make this new, and entirely different proposition, fully accepted. The Space Seeds are a fine, stylish pop band who can go out and conquer a great many people, but whether they can conquer Tamworth preconditioning is a totally different matter.
SAM HOLLIDAY
Tamworth Herald - 16/09/88
Musicbox – Review Special
Emma Gibbs Loves Badges – Sonic Noise Happening
More Roddy Frame than Ian McCulloch. Lee Revelle wooed the audience with his own luscious brand of pop. The band have developed considerably since their last appearance and should no longer be labelled petulant schoolboys. Undoubtedly the best performance of the evening. They are better than sex.
LIZZIE FISH
The Macoys – Tamworth Arts Centre
No complaints about these whatsoever. This impressive show far outranked their already useful Assembly Rooms debut and shows that we have here a punchy, relevant and dramatically effective new band. The Macoys are an attractively arrogant pop band whose music (uncharacteristically in a lot of modern pop) seems to revolve around driving guitars rather than gentle ones. There is a real twist in the pop-tale, a bittersweet, repressed anger just bursting to spill out of a collection of very thoughtful and cleverly constructed songs. Mid-song meanderings are kept to an absolute minimum so I don't have and titles to recommend but it struck me that there was a remarkable consistency to the quality of the material. The opening song was corker and the pressure never let up until the equally impressive final track. I am glad that the talents of people like Neil Jones have at last been harnassed and glad also that some of the more lighter touches have been replaced by a refreshingly powerful outlook to the sound. As I say, I have no grumbles whatsoever about this band, they are clearly a group of some ability who need nothing more than self-belief and absolute determination to carry their sound to a much wider audience. Good name too I think.
SAM HOLLIDAY
Tamworth Herald - 16/09/88
Musicbox – Review Special
Breaking Point – Tavern in the Town
When Breaking Point stated some time last year that they would not be playing Tamworth again after a poor Arts Centre gig, some people were upset, some relieved and some probably even jumped for joy. I for one am thankful this hasn't happened. At the Festival they showed they were as good as anyone else. At this gig they proved they are one of Tamworth's best.
From start to finish this gig was excellent. The Tavern had been transformed into a real venue, complete with a packed audience, lighting and a sound to be proud of thanks to Rikk 'I've Got My Fingers On The Knob' Quay and Reverb Sounds. When Breaking Point finally appeared things just got better and better. Their set was packed with new songs, nearly all with a catchy tune, singalong chorus and powerful driving bass and drums.
Songs standing out from the rest included 'Rebel With A Burning Cause', 'Guilty' and 'Love Lies Bleeding' and their classic 'Israel'. They played a well-deserved encore and left many people saying this was their best performance for a very long time.
EDWARD IAN ARMCHAIR
Tamworth Herald - 16/09/88
Musicbox – NEWSBEAT, BEATNEWS
TAMWORTH'S loveable popster popstars, Julian Cope and Donald Skinner are back. The duo have just released a new single, a bittersweet-ballad called 'Charlotte Andy'.
Tamworth Herald - 16/09/88
Musicbox – NEWSBEAT, BEATNEWS
HEAVY Metal Thunder fronted by Tamworth's immortal Mick Rutherford have just 'roared' into the national headlines. For Mick was chosen as an unlikely sex symbol in Jonathan king's new 'HM Bible'. This is a very busy time for the former Ice and Dickens frontman. The new band have already had a 'Friday Rock Show' session and are just about to release a brand new album 'We Are What We Are' which we will feature here shortly. Look out also for the forthcoming Heavy Metal thunder interview in 'Sounds'.
Tamworth Herald - 16/09/88
Musicbox – NEWSBEAT, BEATNEWS
CATCH 23 who are planning to record 'You Keep Me Hanging On' as their second single in the near future are to be featured on a special Lichfield area rock compilation promoted by The Reptile House. The band were keen to help because they regard the studio as 'superb'. The group have also sent out congratulations to drummer Jason Notman who has just passed his driving test.
Tamworth Herald - 16/09/88
Musicbox – NEWSBEAT, BEATNEWS
The former Shellshock members are still looking for a drummer.
Tamworth Herald - 23/09/88
Musicbox – Soul Kings Hit The Road Again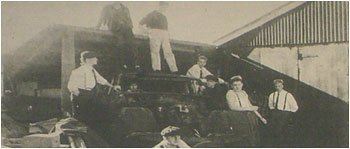 AMBITIOUS Dance Stance this week announced details of a major University tour.
The band fresh from another triumph in Jersey, will be in action at a host of top venues throughout the UK.
Among them are a relatively local shows including North Staffs Poly and Warwick university – and with other dates sill to be announced it makes for the biggest and most ambitious undertaking the band has yet managed.
"There are some very good, prestigious dates and if we can build on our success of our last tour we will be very happy indeed," said band manager Ray Sheasby.
The group – who also have two substantial private promotional parties in the pipeline – hope the tour will bring that inevitable record deal even closer. They have already been placed on the audition lists of two major record companies and they have to send away every new recording they do through Paul Speare's Expresso Bongo studio.
"It is a bit frustrating because we know we are just a whisker away from real success," said Ray Sheasby.
"Everyone who has seen us recently with company links has told us we are right on course and that will keep us going and keep us believing in ourselves."
The Dance Stance 1988 Tour begins next week at Aston university and continues at regular intervals until the middle of December when the band hit Rugby College. Other dates may yet be added and following the response of their last tour it seems the band will be welcome almost anywhere…
"It's amazing the letters we are getting from all around the country. We picked up a lot of followers at shows like Warwick University last year and hopefully we can build on this more this time around," said Ray. "The Jersey trip was similar and our 'fan club' is now well and truly international."
Dance Stance are still looking into the possibility of playing a concert in or around the Tamworth area in the near future. They have been frustrated by the lack of a suitable venue but have stressed to their legions of Tamworth and Atherstone fans that if one becomes available they will gladly take it.
In the meantime the band will settle down to enjoy this vital and impressive tour – the one which we all hope will finally break them into the (very)big time.
The '88 Dates
Sep 28 – Aston University
Oct1 – Lancaster Poly
Oct 5 – Sheffield Poly
Oct 7 – North Staffs Poly
Oct 14 – North Staffs (Stoke)
Oct 21 – Leicester Poly
Oct 22 – Loughborough University
Oct 29 – Warwick University
Nov – Bath Uni (Date to be confirmed)
Nov – Reading Uni (Date to Be confirmed)
Dec 2 – Southampton University
Dec 15 – Rugby College
Tamworth Herald - 23/09/88
Musicbox – SNIPS
Clubtime for Catch Boys
Catch 23 have been invited once again to play a special show at Faradays Nightclub on Wednesday Sep 28. The band have been at the venue a couple of times and received impressive reactions and they want this next visit to be their best yet. They have received a consignment of tickets (which are selling fast) and urge Atherstone fans who want to join them on the night to apply for tickets NOW!!!
Tamworth Herald - 23/09/88
Musicbox – SNIPS
Fetch Eddie duo, Aaron and Pod played a special duet show at Sinatra's Nightclub in Birmingham last weekend. The duo who had been invited to do a tape of their moody classic 'Sunny Child' played under the name of 'Two Bob Ted' and played a quartet of sings. Fetch Eddie have apologised for their recent omission from a billed Arts Centre show and hope to be back at the Arts Centre shortly for a double-header with Catch 23.
Tamworth Herald - 23/09/88
Musicbox – SNIPS
A new 'r 'n' b band who feature two very well-known local musicians are on the lookout for a drummer to complete their line-up. The band under the name of 'Two Eds Are Better Than One' want to meet someone who wants to play real, pure and gutsy r 'n' b and they say they are on a mission to put some life back into the local scene.
Tamworth Herald - 23/09/88
Musicbox – SNIPS
A new bass player and a drummer are being sought by a local band playing original music.
Tamworth Herald - 23/09/88
Musicbox – SNIPS
A few demos are beginning to stockpile in my bedroom again and I hope to review them shortly. Among them is the one you knew I would love (DHSS) and the one you probably thought I would hate (Emma Gibbs) which turns out to be quite fab.
Tamworth Herald - 23/09/88
Musicbox – SNIPS
Breaking Point made quite an impact in their Burton Battle of the Bands show last week. The trio, fired on by their excellent Tavern show, picked up quite a lot of notice and have earned themselves several more bookings. According to MUSICBOX spy Buttercup it was Breaking Point 'at their very best.'
Tamworth Herald - 23/09/88
Musicbox – SNIPS
Embarrassing mis-print of last week? Well it had to be MUSICBOX describing Cope's new masterpiece single as 'Charlotte Andy' instead of 'Charlotte Anne'. Typically wide of the mark again Holliday, stick to football reports.
Tamworth Herald - 30/09/88
Musicbox – Bands offered record boost!
TWO top Tamworth area bands will be among the first groups in the country to take advantage of a new and exciting album deal offered by a top local studio.
The Lichfield-based Reptile House studio are launching a series of international compilation albums which will be released at the rate of one-per-month for the foreseeable future.
Already 60 bands – some from as far away as Spain, Switzerland and Italy have responded to adverts in the national music press urging people to get involved in the Reptile House's unique 'no rip-offs' scheme to release a series of top quality compilations.
Studio chiefs admit to being staggered by the response and they feel it proves there is a real need for the service they are offering.
"So many bands have told us that they have been ripped off before and it has made us realise we can help a lot of people as well as putting the studio right on the map at the same time," said Brian Cropper from Reptile. "The whole project looks like being bigger and better than even we hoped for and we are all excited about it," he said.
The first part of the Reptile Collection arrives shortly and features two of the local scene's stalwart acts – Catch 23 and Never Say Die. Both the outfits have been delighted by their Reptile sound and have been happy to join in the album collections.
So how do local bands get involved in this new and exciting series of records? Well it is really very simple and extremely good value for money. Most local bands will comfortably spend around £175-£200 on a demo and for that money Reptile offer the following…
A day in the studio to record the track you wish to see on the album.
A written guarantee that the copyright of the song is yours and yours alone and the Reptile House will not use the song independently.
Fifty copies of the album when released. Thus if you sell all your contingent at say £5.00 each you will make an actual profit of £50!
A list of all the press and record companies who will also be receiving the album to ensure maximum exposure. Brum Beat for example has guaranteed to review every album and copies will be sent to everyone from the enormous and influential (MUSICBOX) to the small and irrelevant (NME).
A chance to appear with other acts from all around Britain on an album that will be strictly limited and could hence become a collectors item.

Full sleeve details about your band and all the artwork necessary in the final production of the record.
In short the album offers a unique and cheap way to reach a wider audience as well as the sheer thrill of seeing (or rather hearing) yourself on vinyl. It all sounds tremendous value and tremendous fun so if you want to know more why not ring The Reptiles.
As another part of the Reptile House's all-new complex they are about to open a series of top quality rehearsal rooms. These have been much desired in both Lichfield and Tamworth and for a very modest £2.75 an hour bands will be able to book a room that includes a full p.a. and a full drumkit as well as a separate room containing video and pool tables. It is the sort of thing a lot of Tamworth bands have been crying out for and the inconvenience of having to travel to Lichfield is ruled out by the convenience of not having to take a p.a.. or a drumkit. The rehearsal rooms will be open shortly but please note that already more than 20 of the available 30 sessions have been pre-booked so act FAST. Tell 'em Sam Holliday sent you and they may give me time to record a solo track on one of their albums!
28/09/88
Catch 23
Faraday's Nightclub
Atherstone
29/09/88
Stench
Tavern in the Town
Tamworth Herald - 30/09/88
Musicbox – SNIPS
Well do you fancy parading your talent?
THE Parade who have at last attracted major record company interest, are seeking to finalise their line-up to make one all-out assault on fame. Band stalwart Brian Lacey is convinced that out there somewhere in MUSICBOXland there are the musicians he is looking for – ambitious and enthusiastic youngsters who want to play strong Sixties pop/Seventies new wave – and he is searching for the people to complete his line-up. With record companies already demanding to hear everything the band produce and another demo due shortly Brian is looking for any musicians (bassists, guitarists, volcalists) to come forward and see if they can fit somewhere in the Parade landscape. The band now feel they have their first real sniff of major success and if you are a talented and ambitious musician aged between 17-25 and want to know more, Brian will be delighted to give your more info.
Tamworth Herald - 30/09/88
Musicbox – SNIPS
True Grit, best known to most of you as Strap On Jack are back in Tamworth action on Friday, October 7. The exciting trio, who have just released an album with the admirably loyal title of 'The Black Country' will hit the Arts Centre as part of a national tour. Incidentally you may be interested to note that one of their best songs 'Breakfast in Bed' will not be on the album. The reason? The song was given to Bayley Cooke as a gift from True Grit who have become big friends of the Wolfies. Will it now appear on the debut Wolfsbane album? If it does, remember who told you first.
Tamworth Herald - 30/09/88
Musicbox – SNIPS
The loveable Tamworth-based Ollie Catley, mother of Magnum singer Bob and the group's tireless fan club chieften says that the group were saddened by their recent tour dates in Northern Ireland. Apparently few people turned up for obvious reasons although the band were still determined to give those that did a fine night to remember. Nearer to home don't forget Magnum will hit the NEC on Friday December 16.
Tamworth Herald - 30/09/88
Musicbox – SNIPS
A drummer influenced by the likes of The Icicle Works and The Bunnymen is seeking musicians for his Tamworth-based band.
Tamworth Herald - 30/09/88
Musicbox – SNIPS
Fetch Eddie have been booked to play a couple more Hummingbird Shows. They are hoping to take a Tamworth/Atherstone coach to one of them on Thursday October 6 when they team up with Ozone Farm and Watch With Mother. Incidentally the band's demo arrived on my desk this week – encased in a tin of beans. The demo 'A Mean Tin Of Beans' – features three tracks and is being sent to various record companies encased in it's rather odd shell which s pretty damn eyecatching.
Tamworth Herald - 30/09/88
Musicbox – SNIPS
Steve MacNamee celebrated his 23rd birthday last week – and the return of the almighty Soil Brothers. For the yee-hahing combo who delighted everyone a few years ago with their washboard rock returned to live action last week with a show at Corvettes and they were due to appear there again this week. The band are now considering making a full return to live action and a show with DHSS at the Arts Centre is in the offing.
Tamworth Herald - 30/09/88
Musicbox – Acid daze for Spirallers
Tamworth's favourite musical hallucination, Spiral Eye, take part in Birmingham's equivalent of the Acid Daze fest on Sunday.
Barry's beastly boys will join four other bands for an impressive looking line-up of psychedelic meanderings.
The fest will pit the talents of Spiral Eye alongside those of Ozarac Tentacle, The Magic Mushrooms Band, Tubilah Dog and headliner David Allen the former Gong-smith.
The concert is clearly modelled on the Acid Daze events and promises to bring an extremely colourful crowd to it's venue, the Birmingham Moseley Road Dance Centre.
Coach
In an effort to encourage local people to take a ride on the wild side. Spiral Eye have arranged a coach to ferry Tamworth fans to the show. For an all inclusive crisp, blue fiver local – Spiral Eyeists will be picked up from outside Hamlets and ferried to Birmingham and back for the all-day event.
The music is due to run from between 2.30-11pm on Sunday and the whole journey looks like being a very interesting 'trip'.
If you want to know more about the gig or want to get yourself on the coach to the unusual show then either see your friendly neighbourhood Spiral person in the next couple of days.