Tamworth Bands History : 1988 :
May
04/05/88
Rape in Yellow
The Searching
Sinatra's, Snow Hill Queensway
Tamworth Herald - 06/05/88
Musicbox – SNIPS
Of kaftans, rockers and some outrage
ATHERSTONE rockers the NEW AGE GYPSIES return to live action on Tuesday, May 10 with a show at the New Swan.
The Gypsies whose impressive brand of rock gained them quite a few new supporters earlier this year, have been off the scene briefly since the bass player departed and new man Dylan of former North Warwickshire faves, Spirit of Water, will be making his debut with them on Tuesday. Time to get the kaftans and headbands out again.
Tamworth Herald - 06/05/88
Musicbox – SNIPS
Lichfield-based rock band Roma, who are keen to make an inroads into the Tamworth scene, have lined up a couple of concerts in the near future. The powerful rockers will be in action next Friday (May 13) at Enots alongside our very own Kubla Khan and latest Kerrang-faves Cry. Then on May 19, Roma line-up with Split In Two for a special double-header at Brownhills Community Centre.
Tamworth Herald - 06/05/88
Musicbox – SNIPS
Tabloid outrage-rockers DHSS played a highly successful second show at the Tavern in the Town last week. The band, whose recent hype gave them more column inches than Princess Di, played a long set much-loved by a large and appreciative audience. According to Musicbox's spy at the concert, George the Roadie, it was 'really weird, man, simply excellent.'. George's view however must be doubted because he because he claimed that keyboard man Rikk Quay was 'sloshed' during the gig. As if…
Tamworth Herald - 06/05/88
Musicbox – SNIPS
Progression were in action – or not – at the Arts Centre last weekend. The reggae band turned up for an unpublicised Arts Centre show and were greeted by an audience that was about as big as the Atilla The Hun Humanitarian Society. The band incidentally are considering splitting up which for all those of us that have enjoyed them is very sad news indeed.
Tamworth Herald - 06/05/88
Musicbox – Remember this!
Well here is comes again!


LOCAL BANDS from all around the Tamworth and Atherstone area's are being called once again to the tavern in the Town n Sunday night for a major meeting to discuss the Rock Festival and the area's first rock compilation album.
Interest in the record was enormous following the recent Tavern meeting and more details plans will be discussed this week to really get the idea off the ground and get musicians into the studio.
A whole host of top local bands have indicated their willingness to be featured on what will be a lasting and immortal record of the current healthy state of the Tamworth-based rock scene. If all goes according to plan, the record should be out and about in time for the Rock festival and should help to promote local music in a new and exciting way.
The meeting on Sunday, as well as discussing the album will also sort once and for all who is playing in this year's two-day event. The festival is now only a matter of weeks away and so it is time for committee members and musicians alike to get down to the nitty gritty of sorting out an agenda for two exciting rock and roll days.
It has already been decided by the committee that by virtue of their past record and/or their success in the Battle of the Band the following groups will definitely be playing in the Castle Grounds – Wolfsbane, Catch 23, Fetch Eddie, Shellshock, A5, Kraze, Scream Dream, New Age Gypsies, The Conspiracy and The Searching.
That leaves just eight more Castle Grounds places up for grabs and these will be sorted out on Sunday. It must be stressed that the ten bands definitely in the two-day extravaganza must still have representation on Sunday to show they are still interested and want to stay involved. Failure to do so (as with all the bands on the night) will be seen as a voluntary resignation from the festival plans.
So for all these reasons – the final selection of bands, the album etc. – Sunday's meeting is a must for all local musicians keen to be involved in the always exciting Rock Festival. If you want to be part of it, please be at the Tavern on Sunday night. It starts at 7.30pm again and help get the momentum going for the biggest two days in a Tamworth's rock fans year.
As a personal message many thanks to the Tamworth rock festival committee and bands fir their card and floral tribute following my recent family loss. It was greatly appreciated – Sam Holliday.
Tamworth Herald - 06/05/88
Musicbox – Long soul-ful night
GREAT NEWS for local followers of the Black Music scene this week…Hinckley, Northern Soul All-Nighters are back!
Very popular during the late Seventies, the Leisure Centre nighters ended some years ago, with no one quite sure why. With the Northern scene thriving again, the first re-opening do is being held tomorrow (Saturday) night.
If you like soul – even if you've only heard the recent chart re-releases from Jackie Wilson and the others – this event, which is only a few miles down the A5 is a must.
There's nothing quite like dancing the small hours away to obscure 60s and 70s soul, when everyone else is tucked up nice and snug in bed.
Although I have no more details at time of writing, the event is being organised by Yorkshire's Hole In the Wall Soul Club. The event will run from midnight tomorrow night until 8 or 9 o'clock the following morning and should cost in the region of £3.50 to get in.
Tamworth Herald - 06/05/88
Musicbox – Bands to do battle on prize road to Tokyo
LOCAL bands have been invited to take part in the world's biggest and most prestigious competition.
Following the success of the first 'Yamaha Band Explosion' last year, the search is underway for bands for this years contest.
07/05/88
Rape in Yellow
The Searching
Mega's Wine Bar, Corporation Street
10/05/88
New Age Gypsies
New Swan, Atherstone
Tamworth Herald - 13/05/88
Musicbox – Hard-edged guys are so ambitious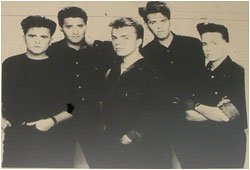 A MODERN, stylish pop band with massive critical acclaim for their hard-edged music, play a special one off concert at Tamworth Arts Centre on Sunday.
The band, Bop Baroque, will be relatively new to most Tamworth bands apart that is from ever-popular bassist Glen 'Nudge-Nudge' Lewis'. Mr. Lewis by his own admission has played the Arts Centre, 45 million times but you can expect to hear something very different from his previous outfits like Love On Board and Orange.
"It's very hard to describe the music because we can't be pigeon-holed easily." Said drummer Mark Chester. "I suppose it is dance music with a hard edge and I think it should appeal to quite a wide cross-section."
Bop Baroque's quality is proved by the fact that already have two singles under their belts and their third ('International') due shortly. That third single features Ruby Turner on backing vocals and has been produced by the man responsible for Halla nd Oates and The Power Station. Nor surprisingly, with such a pedigree, the young Birmingham outfit have been under very close record company scrutiny .
"I know every band says they have had company interest but with us it happened to be true!" said Mark. "We are just waiting for the right deal t come along because we are all very ambitious and know what we want."
The gig at Tamworth Arts Centre is one of a hat-trick of 'warm-up' shows before the band hopefully announce a major support slot on a national tour. It should eb quite a treat for Tamworth crowds who like to see professional well-played pop music, and at only £1 entry, it is a real bargain…
"A lot of people should like what we do and it should be a good concert," said Glen.
The evening's entertainment will be supplemented by TV, radio and tabloid star, Edward ian Armchair, The DHSS lead singer will return to the rather milder occupation of 'telling poems' on the night and I can guarantee on his behalf that hundreds of punk fans will not be running away from scattered human remains."
The gig starts at 8pm and remember is just £1.
Tamworth Herald - 13/05/88
Musicbox – How the festival shapes up
THE TAMWORTH Rock Festival 1988, was officially launched on Sunday night with the full line up of bands revealed for the first time. Nineteen bands will line up in the Castle Grounds on Saturday July 16 and Sunday July 17 for around 16 hours of non-stop music.
In addition there will be a four-band show at Tamworth Arts Centre on Friday July 15 as a pre-festival warm-up to make for three hectic and exciting days of rock and roll.
The full line-up for the festival this year is:
FRIDAY JULY 15: Tamworth Arts Centre (£1 admission) – The Magnets, the Green Swings, The Jim Crows Blues Company, The Parade, plus others to be added later.
SATURDAY JULY 16: Tamworth Castle Grounds (free admission): (in this order at 35-minute intervals starting at 12.20): Torn in Two, New Age Gypsies, Breaking Point, The Searching, DHSS, Wolfsbane, The Conspiracy, Never Say Die, Kubla Khan and A5.
SUNDAY JULY 17: Tamworth Castle Grounds (free admission): (In this order at 35-minute intervals starting at 12.30): Cuddly Spiders, rape In Yellow, Future Field, Fetch Eddie, Catch 23, Kraze, Scream Dream, Shellshock and Spiral Eye.
The only possible change is that Breaking Point have asked to switch to Subday due to work commitments and if any group would like to swap with them please contact the Festival Committee.
Packed
In case any of the 19 bands due to play outside are forced to pull out: World Intelligence Network, Lucy and the Daydreamers, Roma and one or two others are set to slot in their places, ensuring the festival will be packed with music from start to finish.

So there it is, all the bands and personalities you can expect to see in festival '88. Along with the relative golden oldies like Wolfsbane, Catch 23, Never Say Die and Shellshock, there will be Castle Grounds festival debuts for a host of bands and an overall variety of music which is quite outstanding.
The Tamworth Rock festival of 1988 is being billed as the best free concert in the midlands this year. With the support of all the area's rock fans it really will be and the countdown is now for a weekend of sheer excitement.
Tamworth Herald - 13/05/88
Musicbox – Getting it taped
PLANS for the Tamworth Rock festival album were greatly altered following Sunday night's meeting of all musicians involved.
It was decided that the time available to get the record out was too short and that the 'vinyl solution' should hold fire until Festival 1989.
Instead, this year the festival have decided to act upon a suggestion by Wolfsbane singer Bayley Cooke. Now all the bands will be invited to produce their own master tapes of recent demos to produce one 20-song tape to be distributed at festival time. That means for a modest price you will be able to hear bands such as Wolfsbane, Catch 23, Kraze, The Searching and many more all on one excellent tape.
More details nearer the time.
Tamworth Herald - 13/05/88
Musicbox – SNIPS
MR. CYN'S brief career is over. Rumours had been circulating for some time that the band had reached a natural conclusion and this was finally confirmed at the weekend. Guitarist Tim Latham admitted it was disappointing that the band had gone their separate ways, although at this stage it is not certain where those separate ways are leading.
Tamworth Herald - 13/05/88
Musicbox – SNIPS
A BASS guitarist is being sought by an unusual rehearsal band featuring Expresso Bongo man and former Dexy Paul Spreare. The group who consist of a mixture of brass players and rhythm musicians meet to rehearse and jam on a regular basis and want a bass guitarist to complete the intriguing picture.
Tamworth Herald - 13/05/88
Musicbox – SNIPS
Two Tamworth bands take their sound out of the town next week for a double-header at Nottingham. The duo, Rape In Yellow and The Searching, will be in action at Buskers at Nottingham on Wednesday May 18.
Tamworth Herald - 13/05/88
Musicbox – SNIPS
Just a bit of advance notice, a new Tamworth-based act called The Ravens will be in action at Tamworth Arts Centre on Sunday June 19. More info nearer the time.
13/05/88
Roma
Kubla Khan
Enots, Lichfield
15/05/88
Bop Baroque
Edward ian Armchair
Tamworth Arts Centre
18/05/88
Rape in Yellow
The Searching
Buskers, Nottingham
19/05/88
Roma
Split In Two
Brownhills Community Centre
Tamworth Herald - 20/05/88
Musicbox – Rock Kings Crowned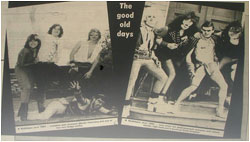 THE dream has come true – the almighty Wolfsbane have finally broken into the big time.
For last week the Town's top rockers became the first genuinely local outfit to announce a major record contract.
The band have been snapped up by Def Jam Records, the home of the Beastie Boys, for an eight album deal which will finally make them the international rock sensation we always dreamed they would be.
The band's deal will mean they will fly off to America shortly after the Rock festival to record their first-ever album. It will be released on Def-Jam Records in America and under a different name in Britain and by the end of the year you can expect to see a Wolfsbane album in your local record shop.
Understandably the band are absolutely delighted.
"It hasn't really sunk in yet," admitted guitarist Jase The Ace, "I think we will only start to believe it when we are sitting on the plane on the way to LA."
The rumours about Wolfsbane being signed up have been circulating for some time but it was officially confirmed until last week. After already turning down two Indie deals (one of which was for £50,000) the group were snapped up by rock legend Rick Rubin. He is the man responsible for the Beastie Boys, Slayer and latter-day Cult albums and was the one man Wolfsbane wanted as a producer. Lo and behold, Rick rang up the band from his American home, said he had heard the 'Wasted but Dangerous' demo and wanted the band fro his Def Jam label.
No hope!
"We couldn't believe it when Rick rang," said drummer Steve Danger. "When we told someone that we wanted him as producer, they told us we hadn't got a hope. But there he was on the phone, taking contracts!"
Rik Rubin told the band he wanted them in LA by the end of July/start of August to record the first album. A house and car was to be bought for them in America and Wolfsbane were told that money was no object when it came to buying new equipment.
"It's all a dream really," said Jase The Ace. "I can hardly wait to start working with Rick because he is a brilliant producer and I am sure he will bring the best out of us."
The first instalment in what should be a very long recording career happens next month when the outfit's 'Wasted but Dangerous' tape is transferred to vinyl to be the group's first Def Jam single. Last week Wolfsbane went to London to have a photo session for the single sleeve and, as an indication of the size of their new commitments, the photo session cost more than the recording of the songs!
"Hopefully the single will be out in a matter of weeks which we are delighted about because we love that demo," said Jase The Ace. "After that we will go to America and hopefully the debut album will be out by the end of the year."
Before they go, Wolfsbane will play what will be a triumphant final Rock Festival show and are hoping to do a 'goodbye to Tamworth' party bash at the Tavern in the Town. That would indeed be apt because it is the enthusiasm of their genuine supporters in Tamworth that has kept Wolfsbane alive and kicking and they intedn to fully honour that loyal commitment.
Turning point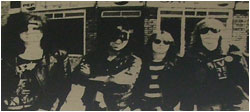 The band began in Tamworth around four years ago. Of the current members only Jeff and Jase remain and probably the turning point in the band's history came when they discovered singer Blaze Bayley. When they found him they…really good!. Blaze's arrival turned Wolfsbane into a major force and with the added attraction of then drummer beauty queen Amanda Hemming, the band made everyone sit up and take notice.
They made their live debut at the Arts Centre at the end of July 1984 and according to my review of the time they hit the audience with the effect of a thunderbolt…which at the close brought the audience to their feet. I concluded that 'rock has finally returned to Tamworth' and oh boy, was that an understatement.
Over the next four years the band played countless concerts many of which were simply breathtaking. Their performance to with the Battle of the Bands in 1987 remains one of the greatest I have ever seen by a band local or otherwise and they have definitely been THE band of the Tamworth Rock Festivals. In their time they have had four drummers but unlike Spinal Tap they have now found one who will be a permanent and vital part of the band.
Real heroes
They have won over critics both national and otherwise and have built up a very large local following which has expanded throughout the country. In London for example they regularly sell-out The Marquee and they are treated as heroes by 'Sounds' and 'Kerrang' magazines who had a party when they heard Wolfsbane had been signed. They are the epitome of the nice-guys-who-have-made-it and their success should show everyone out there if you believe in yourself and work hard you CAN make your dreams come true. And as for the pathetic Wolfsbane bashers who have appeared over the months well, they can crawl back into the cesspit from whence they came and leave Wolfsbane to soak up the LA sun.
"The whole thing is still totally unreal and that is why we can't get too excited at this stage," said Jase. "I suppose it will hit us soon and personally I just can't wait to get writing songs and start recording because that's what I love above all."
Jase says that the band will probably record 30 or so songs from which ten will be picked for the first album. The rest then belongs to the record buying public. Wolfsbane could become a small cult group with a loyal following or they could go on to become massive superstars as Iron maiden or Def Leppard stature. Bayley may too well be picked out as THE face of HM in the 90s, it's just all too early to say.
What it isn't too early to say however, is that we should all be thoroughly proud of Wolfsbane. Tamworth has given them a superb platform to launch their career and a lot of people out there can regard this as a real 'victory'. Wolfsbane are on the way to a potential world-beating size and for them, for Tamworth and for rock and roll justice this is the best news ever to come out of this amazingly successful local scene.
Tamworth Herald - 20/05/88
Musicbox – I hate to say I told you so but…
"As a gig it was excellent, but as a debut it was outstanding" (Musicbox, Aug, 5, 1984).
"The whole festival was won by the wonderful Wolfsbane who left the audience open-mouthed and more than a little shellshocked." (Musicbox, August 30, 1985)
"Wolfsbane were quite wonderful and I cannot see how anyone can dislike them. I will go even further – if you don't like Wolfsbane you're dead already." (Musicbox, August 8, 1986)
"They were simply magical." (Musicbox, August 29, 1986)
"Every song was played to musical perfection and their look and stage presence would be the envy of many national metal bands. I loved 'em to bits." (Musicbox, March 6, 1987)
"If they are not a name, national band 12 months from now I will east a Stranglers album. Wolfsbane have a songwriting quality that most of their peers couldn't hope to attain." (Musicbox, July 31, 1987)
"People often say I am based towards Wolfsbane and you know what – they are right. This gig was an absolute riot." (Musicbox, March 25, 1988)
"I was left feeling I had witnessed a phenomenon, a group who went beyond superlatives and into a class all of their own." (Musicbox, April 15, 1988)
"Wolfsbane will go on to be massive, a band as big as they want to be one who will slaughter the charts and conquer the rock and roll world." (Musicbox, today!)
All reviews by Sam 'He Know His Heavy Metal' Holliday
Tamworth Herald - 20/05/88
Musicbox – This week's MUSICBOX
Because of the importance of this news, MUSICBOX has had to leave out masses of news, views and reports this week. We make no apology for that, but will return with a vengeance next week. Just one point to make however, will all Rock Festival committee members attend a meeting on Sunday night at 7.30pm. Many thanks.
Tamworth Herald - 27/05/88
Musicbox – What a scream!
Battle of the Bands winners Scream Dream have landed their biggest show yet.
The band have been lined up to appear alongside the likes of Sex Gang Children and The Bomb Party in a special alternative festival to be held in Birmingham next month.
The event at Moseley Dance Centre, will feature The Sex Gang Children, The Janitors, The Bomb Party, Die Laughing, The Crockery Set and our very own Screamers. The Tamworth combo earned their slot in the event after their first demo (reviewed here shortly) was picked up and praised by one of the organisers.
"It's obviously great news and it will be a real step up for us," said guitarist Paul Keeton. "Hopefully, there should be one or two record company people dotted around the audience so it's a superb opportunity for us."
The show will take place on Sunday, June 12 and tickets are a modest £5 for the whole thing. As a goodwill gesture Scream Dream are organising a free coach to ferry supporters to the show and more details are available from band members.
"It would be good if people came along to support us because if we do well it could lead to a lot of other things," said Paul.
Tamworth Herald - 27/05/88
Musicbox – What a shower!
TAMWORTH has really been putting itself on the national music map of late. Following national press about the best (Wolfsbane) and the sickest (DHSS) we now have the worst (The Liberty Caps). Yes. This all-new Tamworth combo have been on the screen, over the airwaves and in all the tabloid national newspapers for being described as the worst band in the world. This was confirmed when they lasted just 30 seconds at a recent show at Atherstone. But (he says remembering the DHSS business) wasn't it all a big stunt?
"No" insisted the guitarist Mr. Daniel Collins "We are simply dreadful although to us it is an art form."
Mr. Collins, who as you probably know happens to write for these pages, was joined in his 'worst band in the world' by Rob cross, MacIntosh, Mark Mortimer, Neil Jones and one or two other assorted characters all of whom revel in being very, very bad.
Ironically however, all this bad publicity has done wonders for the guys. They have beaten, even the likes of Wolfsbane, by getting on the TV and a Radio DJ wants to hear a tape which he has promised to play loudly over the BRMB airwaves.
There's bands out there who would die for publicity like that, which just goes to show that as Marillion have proved, being totally useless can have its rewards.
"It's all a big joke really but somebody has said we may get a tour with loop and there has been loads of interest," said Dan.
I dunno, if being totally bad can make you popular, there's hope yet for 'Sporting Triangles' alcohol-free lager and Mike Fleming's trousers.
27/05/88
Rape in Yellow
The Hummingbird
Tamworth Herald - 27/05/88
Musicbox – SNIPS
Yellow boys hit the road
RAPE IN YELLOW have announced a couple of dates in advance of their appearance at the Rock festival on Sunday July 17. On Friday, May 27, they will be in action along with eight other groups in a special show at The Hummingbird. Then on Wednesday, June 8, they team up with Best Band in Brum finalists The Searching at Piranhas and follow it on June 21 with a slot at The Barrel Organ. There are also plans for a Tamworth Arts Centre show shortly, more details later.
Tamworth Herald - 27/05/88
Musicbox – SNIPS
Bayley 'Def-Jam' Cooke was due to be on the front cover of 'Kerrang' this week so go out and buy 2,000 copies now. Incidentally one or two local Wolfsbane dates for your diaries – June 21, Derby Rockhouse; June 23, Birmingham Edwards Number Eight; June 25, Nottingham Mardi Gras; July 1, Lichfield Enots and of course Saturday July 16, Tamworth Rock Festival. The boys will also be playing dates at venues all over Britain (including London, Edinburgh, Bradford, Glasgow and Leeds) before disappearing in the summer to the home of Ronald Reagan, Donald Duck and Terrible game shows.
Tamworth Herald - 27/05/88
Musicbox – SNIPS
THE COUNTRY'S top indie house label, Kool Kat, have been making use of Tamworth's Expresso Bongo studio again. Paul Speare is credited as engineer on the 'final mix down' of the 'house Reaction' single by T-Cut. It's a goodie which with its Tamworth connection is a must for local black music fans.
Tamworth Herald - 27/05/88
Musicbox – SNIPS
Catch 23 singer, Steve Webster recently passed his driving test which is great news to the rest of the band who can sack him and give him a more important job – roadie.
Tamworth Herald - 27/05/88
Musicbox – SNIPS
TASTEFUL Tamworth outfit, The Stench are back in action on Monday night with a one-off show at Fosters Yard, Polesworth. Go and sniff it out.
Tamworth Herald - 27/05/88
Musicbox – SNIPS
Kraze-y times again!
FUTURE Def-Jam recording artists, Kraze, are back in action this weekend.
The highly-talented metal merchants bring the full weight of their power-sound to the Arts Centre for an FOD Production alongside two top rated out-of-town HM outfits.
Kraze will be headlining Saturday night's show with the able-bodied support of Dirty Tryx (who recently supported Wolfsbane) and Rugeley's own World's Apart.
Saturday night fever will hit the Arts Centre at about 7.30pm tomorrow and it costs just £1.50 for a whole night of crash, bang wallop metal.
Metal fans who do not turn up will be deemed to be closet mods.
Tamworth Herald - 27/05/88
Musicbox – Review Special
Fetch the record companies!
Fetch Eddie: New Swan, Atherstone
FETCH EDDIE have not had the best of luck so far this year – but anyone who thought they were losing their impact had better think again…
Fetch Eddie are back and the break has done them a power of good.
From "Mean Tin O Beans" through to their fifth encore "Keep on Running" everyone was transfixed by their tuneful and unbelievably contagious pop music.
The classic "No Good For Love" if properly produced could easily be a hit single and the same goes for "It's Your Turn" which sent tingles down my spine.
Fetch Eddie could well become the next local band to be promoted to the national league – so don't miss them next time round.
STEVE WEBSTER
Tamworth Herald - 27/05/88
Musicbox – Review Special
Dance Stance, Atherstone School
SLY STONE, is alive and living in Atherstone! Fred Wesley and Bobby Byrd are there too, and they're writing material for The Dance Stance.
That praise might seem a little fulsome but on the basis of last week's Atherstone show – a warm-up for a probable national tour supporting a major pop act – it's only a teeny-weeny bit over the top.
The band has left its old naïve brand of white soul far behind and is now producing a funkier, rarer sound which owes more to the Seventies than the Sixties.
All I can say is Git down on it, y'all.
DAN COLLINS
SCREAM DREAM – JBs (Dudley)
AFTER a long wait, the band of the night finally materialised before their ever eager fans.
They launched into "When The Hour Comes" and the crowd went wild. Some new songs emerged (which everyone seemed to lap up with greed) one of which was particularly memorable to me "Back Waters". By far the most powerful songs of the evening were "Till The End Of Time", "Dreams" and their version of "Not Fade Away".
Ted Wilson's 'axe' work was as spectacular as ever, as was Steve King's strutting around, in fact all of the band played with a style rarely seen in these parts.
After some 'hassle' for us little people, this hot and sweaty night was worth waiting for. Despite a few technical hitches, Scream Dream did Tamworth proud.
VICKY CLARKE
28/05/88
Kraze
Dirty tryx
World's Apart
Tamworth Arts Centre
30/05/88
Stench
Fosters Yard
Polesworth