Tamworth Bands History : 1988 :
January
Tamworth Herald - 01/01/88
Musicbox – The heart and soulmen take the honours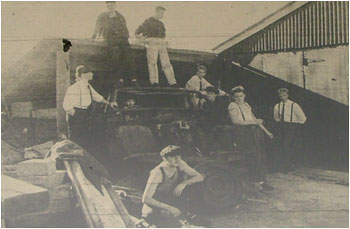 Slick Dance Stance have been voted as your favourite local band for the second year running. The wonderful soul combo – who have had an incredible year – have retained their Musicbox top band award after another hugely successful poll which saw hundred of you put pen to paper.
Dance Stance earned their top billing despite a very exciting fight with fellow Atherstonians Catch 23. The lead swapped hands on several occasions during the poll at the end of the day Dance Stance just nicked the highly-prized top slot.
They have won the award in recognition of the year that has seen them – like third-placed Wolfsbane – pass out of the local band scene and onto a national platform. Every gig they have done – from supporting the legendary Geno Washington to headlining in front of 1,400 university students – has been warmly received and fantastically praised.
Their live show has become an example of class professionalism and their sound on tape, record and yes even CD, proves they have quality built to last. They are a truly superb band and they have thoroughly deserved their impressive position in nearly all aspects of this year's poll.
As well as winning the best band they have also won best local song, had five entries in the top personality section, four in the top concert section and a second-place in the top single.
Tremendous
It has been another year of tremendous progress for the group and one which should be a springboard to a major record company contract next year. They go for that goal with your fullest support – and that should fill them with a lot of hope.
Also with every right to feel delighted are Catch 23 who have easily has their best poll result. They were a strong second on the top local band and made up for the minor disappointment of not taking the top slot by winning the best single of the year; the top personality (in singer Steve Webster) and by having three songs in the top local songs section.
It is a morale-boosting performance from a band who can do no wrong in my books and have achieved their superb success by combining a love for music with a basic positive humanity I personally find very inspiring. I am delighted to have seen them do so well.
Magnificent
In third place in the poll was Wolfsbane, a group who will never, ever forget 1987. They have clearly made a permanent mark on the local scene and the way they picked up votes from all sorts of local music fans proved conclusively that they have a stranglehold on the whole area and not just on people with long hair, plastic guitars and sex obsessions.
Elsewhere in the top local bands section, it is good to see wide-ranging support for the rejuvenated A5 and Shellshock, while Mark Mortimer will take great comfort from the success of The Great Express – easily the most popular new band this year.
Looking further down the best local bands list it is interesting to see Breaking Point are still held in affection despite their sad final Arts Centre show, and it also seems that Atherstone is looking musically stronger than ever before.
Still with local bands, the final tally of outfits voted for was an amazing 52 (including the likes of Christ in Shades and even the defunct Dream Factory and Orange) and the 'next ten' after the top twenty were Kraze, The Witness, Hamilton Hammond, DHSS, Jabberwockie, Emma Gibbs, Soil Brothers, Jim Crows and Stranger Than life. All in all, however, it seems the scene is getting more and more diverse and more and more groups are being formed locally. Both facts augur very well indeed for the future.
And so to the other sections…
Top Local Songs
Won (convincingly it must be said) by Dance Stance with their excellent 'Higher Ground' but I was also delighted to see two of my favourites 'Society Girl' and 'No More Lights' caress the second and third slots respectively. Elsewhere all the top local bands scored well but it was nice to see the likes of Pakistani Brothers, Ferocious Apaches and The Parade do well in this section.
Top Local Concerts
As so many of 'our' bands played important shows out-of-town, I decided to include votes for these gigs and that is how Dance Stance picked up four well-deserved top twenty places.
The Great Express, Shellshock and A5 also scored well here and Ian Gibbons will no doubt take great pleasure in seeing some of his more controversial acts – like Toy Dolls, Laugh, rosehips and Blow Up – scoring well.
The real king however, was (quite rightly) the Tamworth Rock Festival which was by far and away your favourite local gig.
Top Local Personalities
Once again this gave you the opportunity to vote for your favourite local musicians and I am very pleased to see the ever-loveable Steve Webster top the poll with my favourite poseur Paul Hanlon in a 'wicked' second slot. Also pleasing was to see support for the backroom boys again such as Den Byfield, Ian Gibbons, Ray Sheasby and very pleasingly Brian Edwards, a man many of us on the local scene have tremendous respect for.
Top National Band
An interesting selection this was, a suitable mixture of your old favourites and some of the new acts who have made an impression during 1987. What is a bit worrying, however, is the amount of bands who can be summed up by your 13th choice – Wet, Wet, Wet. Music is supposed to be angry and powerful not weak and wimpy so get your brains back into gear readers.
Oh yes, and I don't think it hasn't escaped my notice that The Stranglers only got three votes this year. I intend to sulk about that until the NEXT poll.
Single of the Year
Once again it is a delight to see the two main bands of our poll – Dance Stance and Catch 23 – take the two main slots in this section. Elsewhere it was very pleasing to see Jesus and Mary Chain, U2 and The Smiths do so well but a little more distressing for me to see how many of you are getting into heavy metal these says. I mean Whitesnake at number six! To quote The Pet Shop Boys – "What have I done to deserve this?"
Album of the Year
Once again an interesting mixture but I was really surprised to see such a 'Bad' album take the top slot. Once again heavy metalitis seems to be creeping in but I will forgive you all for putting The Mary Chain, U2, The Cure, The Sisters, The Alarm and Julian Cope in the Top 20. Because after all THAT is real music.
Here are my personal awards for the year gone by…These are strictly my choice and not as a result of the poll.
Best Singers
Bayley Cooke, Pod, Mark Brindley, Paul Hanlon, Steve Webster, Graham Harwood.
Best Bassists
Neil Gordon, Neil Sheasby, Daydo, Jeff Hateley, Paul Bethel, Glen Lewis, Chris Edden.
Best Drummers
Gavin Skinner, Phil Ford, Luke Morgan, Steve Danger, Steve Hayes, Bruno Edwards.
Best Guitarists
Jase the Ace, nick Read, Roger Moore, Ted Wilson, Trevor Mugglestone, Aaron James, Ray Clenshaw, Kevin Briggs, Pete Fulleylove.
Best Keyboardists
Nick Smith, John Bates, Ian Hardwood, Rikk Quay.
Other Instrumentalists
The Dance Stance Brass Crew, Dave Caswell, the DHSS drum machine!
Songwriters
Fetch Eddie, Brian Lacey, Kevin Briggs, WIN, Dance Stance, The Conspiracy.
New Bands of '87
WIN, Fetch Eddie, Conspiracy, Great Express, Rape in Yellow, The Searching.
New Bands for '88
The DHSS
Most Improved Bands
A5, Shellshock
Live Bands
Dance Stance, Wolfsbane, Catch 23, WIN.
Demos of the Year
WIN, Fetch Eddie, Conspiracy, Dance Stance, New Age Gypsies, Breaking Point.
Lyric Writers
Edward ian Armchair, Kevin Briggs, Mark Brindley.
Best Dressed Person
Jeff Hateley
Best Haircut
Jeff Hateley
Best Roadie
George
Worst Roadie
George
Best DJ
Buttercup
Best person at standing on the top of trailers at Rock Festivals
Bayley Cooke
Best Fish
Haddock
Personalities of '87
Phyllis James, Edward ian Armchair, Rikk Quay, Den Byfield, Mark Mortimer, Gary Byfield, Bayley Cooke, Jeff Hateley, Jase The Ace, Steve Danger, Steve Webster, Alan Webster, Paul Hanlon, Neil Sheasby, Nick read, Ray Sheasby, Andy Codling, Roger Moore, Aaron James, George The Roadie, Kevin Briggs, Mark Brindley, Paul Speare, Rob Cross, Lee Revelle, Graham Harwood, Gavin Skinner, Ian Gibbons, Chippy, Buttercup, Ray Clenshaw, all Catch 23 fans, Dave Caswell, Martin Reece, Gong, Glen Lewis, Dave Fortune, Trevor Mugglestone, Mike Fleming and the rest of you all!
Tamworth Herald - 15/01/88
Musicbox – Kicking off with fine trio
Tamworth Arts Centre opens its doors on Sunday for the first major local concert of 1988.
Making their way to the venue will be Musicbox poll favourites The Great Express and The Parade and one of Lichfield's finest exports Acoustic Shock.
The three band line-up represents a very strong one, which should appeal to a wide-range of local music fans. The Great Express emerged as one of the best new bands of the year in '87 with their unique and powerful sound, and they are keen once again to show local audiences just how they have developed and diversified since their early appearances. Their sound is resilient and memorable and the size of their audiences imply they are a band who a lot of people take very seriously indeed.
Joining The Express will be fellow Tamworthians The Parade. The group – now back as a three-piece once again – made a triumphant return to the local scene at last year's Rock Festival and have since done a series of low-key gigs which have further sharpened their live capabilities. On their night, their high-energy pop can make them a classic, classy live act and they will be keen to make their night on Sunday.
Competing what looks to be a very strong trio will be Acoustic Shock. This Lichfield group have a strong following in their home town for their alternative-based power-sound which has more than the odd touch of the Buzzcocks and a lot of late Sixties influences.
Putting the three elements together, this looks to be a very god show indeed and will really set 1988 off to a bang at the Arts Centre.
17/01/88
The Great Express
The Parade
Acoustic Shock
Tamworth Arts Centre
Tamworth Herald - 15/01/88
Musicbox – A revamp at the DHSS
'Middle class punks' are signing on…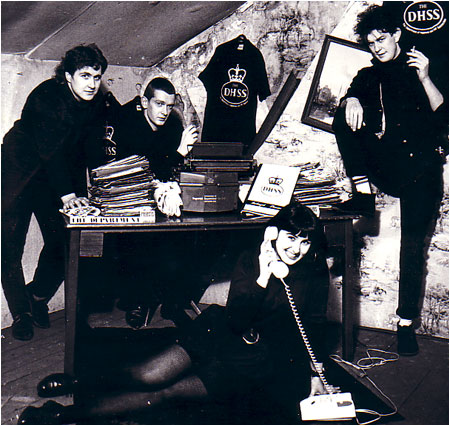 1987 was very much they year when that 007 maxim 'Never Say Never Again' was applied to the rock and roll business. Dozens of bands whom we had thought were dead and buried re-emerged with 'hit' records and still more new bands decided to jazz up old classics rather than take the trouble to write original material. Whether it was because of nostalgic, conviction or sheer laziness, the past became very much the present and the dividing line between the old and the new disappeared. Therefore no-one should really be surprised to learn that one of Tamworth's oldest bands have now got together in a new format.
They are DHSS formed originally by Edward ian Armchair and Rikk Quay and featuring this time (surprise, surprise) Edwardian ian Armchair and Rikk Quay! The original DHSS v1 who go back to 1979 (yes nearly ten years ago), also went on to feature the likes of Vince Watts (DHSS v2), and when Rikk and Eddie left to pastures new , Vince carried on the band to produce a punchy combo (DHSS v3) still remembered with affection by all of us who witnessed them.
This time there is no Vince Watts but in his place has come an equally thrash-and-grab guitarist John Reeman and female backing singer Anice Byfield.
"We want to retain the spirit of the original DHSS but obviously we have added some Eighties touches," said keyboard impresario Rikk Quay, "I feel as if we have a lot of good ideas and will really shake up the Town."
The band's first attack on the public has come in the shape of a unique and highly enjoyable four-track demo recorded recently at Expresso Bongo. The tape is a real blockbuster, combining razor-sharp music with superb lyrics and creating an overall atmosphere of controlled anarchy.
Musical comparisons have been coming in thick and fast but to me it sounds like an electronic version of The Ramones – fast, poppy, commercial and hard. DHSS see it slightly differently though…
"We are like middle class punk," said Eddie, his tongue firmly in his cheek. "We feel we are original and should appeal to a wide cross-section of people."
Eddie's return to rock and roll is remarkable in that it has been eight years since he fronted a band as a singer. So what made him return?
"Seeing Wolfsbane had a big impact on me," admitted the DHSS frontman, "I watched Bayley cavorting around the stage and thought "I was doing that some years ago". I see myself as Bayley Cooke with long words!"
Rikk of course has never gone away. Since he left DHSS he has been involved with Those Attractive Magnets, The Sway, The Pakistani Brothers, XPD, the Cradle and others, but his enthusiasm has never once been dented.
"I've had my ups and downs but this new DHSS has really fired my hopes again. I feel really good about this group and feel we have a lot to offer," he said.
Completing the line-up are two other musicians of note. John Reeman is widely (and rightfully) regarded as one of the best songwriters in the area, and has come in for a lot of praise from Rikk and Eddie for his manic guitar work. And Anice Byfield (ex-Orange, Sitting Pretty, XPD etc.) is another sleeping talent who is delighted to have been reawakened by the ambitious trio of males who are her fellow members of 'the department'.
"We are a very serious band with a lot of important things to say," insists Eddie, "Sometimes, however, if you use humour to make serious points, it tends to stick more, and that is what people will soon realise about DHSS."
Tamworth Herald - 15/01/88
Musicbox – Festival cash is sweet
AS YOU MAY have read elsewhere in this week's Herald, the Tamworth Rock Festival has been given a major civic boost. At the end of last year the festival committee produced a specially-bound ten page booklet which was sent to all Tamworth Borough Council members and officials asking for financial support with the 1988 event.
Last week the claim was discussed and councillors voted to give the festival £400 this year. It means that for the first time the festival starts with some money in the bank, which means when added to other extra finance, should mean this year's event will be bigger, better and stronger than ever.
Several changes are envisaged for this year's festival – including reducing the number of bands – and the most important alteration is that the event will now take place in the middle of July to avoid clashing with other major rock festivals.
To discuss all this – and this year's Battle of the Bands – a full meeting is being called at the Tavern in the Town a week on Sunday (Sunday, January 24) at 7.30pm for all groups interested in getting involved.
More details will be given about the meeting and the festival in next week's Musicbox but please make a note in your diaries of the date. It is a vital meeting and should be the springboard for the best festival ever.
Tamworth Herald - 15/01/88
Musicbox – Girl lands star role
FORMER Musicbox editor Annette Witheridge has now taken over as pop editor of The Star. Annette, who introduced herself to her readers in a full page Star special last week, will now be dealing with (and no doubt dirtying) all the top names in the business for the benefit of one of the largest youth readership of all the national newspapers.
It all seems a far cry from when Annette used to sit in this chair writing about the likes of Ice, The Magnets and The Fretz. But just to prove that nothing really changes Annette also used to write a great deal about DHSS who you will find are still with us today on this very page!
On behalf of the local music scene, we wish Annette the best of luck and hope she manages to do the one thing most women in The Star have failed to do – keep her clothes on.
Tamworth Herald - 15/01/88
Musicbox – SNIPS
MIKE FLEMING is in the process of setting up a special concert to coincide with Comic Relief fundraising bonanza. On the night of February 5 people all around the country will don silly red noses and do all manner of things to raise money for Comic Relief's two main causes – African famine victims and youngsters with problems in Britain. Mike is hoping to put three bands together for a special Arts Centre Comic Relief show and will give more details shortly. In the meantime you can get your noses from Oxfam and other charity organisations, so what are you waiting for?
Tamworth Herald - 15/01/88
Musicbox – SNIPS
Early indications are that Wolfsbane's second headlining show at the Marquee on Saturday was another marvellous success. Musicbox spy Steady Eddie Armchair informed me that the venue was packed to the rafters once again and everyone was going balmy! Apparently people were bouncing up and down like the floor was lined with hot coals and the Tamworth quartet had a ball of a time. Did we expect anything else?
Tamworth Herald - 15/01/88
Musicbox – SNIPS
An established local band is in the alert for new musicians to come in and give them a new outlook and a new sound. If you are a singer, keyboard player or guitarist and want to join a band who have originality, style and good pedigree.
Tamworth Herald - 15/01/88
Musicbox – SNIPS
Depth Charge have changed their name to Never Say Die which, according to guitarist Trevor Mugglestone, 'sums us up perfectly'.
Tamworth Herald - 15/01/88
Musicbox – SNIPS
Former Birchmoor studio boss Steve Adams – one of the respected people in local music – has returned to 'action' with a special tape in aid of Greenpeace. Steve recorded the four songs, under the collective name of 'Bring Back The Dodo', on his own portastudio and has promised that half of the £2 hw will charge will go automatically to Greenpeace. We hope to review the tape shortly but if you want to find out more now – and support a worthy organisation at the same time – you can out in an advanced order by sending £2 including post and packaging to Steve Adams.
Tamworth Herald - 15/01/88
Musicbox – SNIPS
Mark Brindley, who was surprisingly dropped by WIN over the festive period is auditioning as the new lead singer of indie band The Weeping Mescherschmitts.
Tamworth Herald - 15/01/88
Musicbox – SNIPS
A new blues-orientated band who are influenced by The Blues Brothers and Huey Lewis are looking for a brass section to complete their line-up. The band based in the Sutton, Tamworth and Lichfield area, have demos and gigs on the horizon and they now need genuine sax, trumpet and trombone players to complete the jigsaw.
29/01/88
A5
Fetch Eddie
New Age Gypsies
Tamworth Arts Centre
Tamworth Herald - 29/01/88
Musicbox – Triple attack of excitement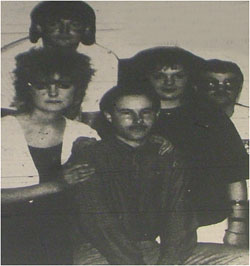 THREE of the area's most refreshing outfits team up tonight (Friday) for an exciting Arts Centre showcase. The rejuvenated, hard-hitting A5 will be joined by everyone's favourite pop-reggae combo Fetch Eddie and Atherstone's punch rock outfit New Age Gypsies. The triple attack of melodic pleasure was originally set up to be the first official parade of the debut singles by both A5 and Fetch Eddie.
Now, however, that seems unlikely although there is still a slight chance that Fetch Eddie's 'Too Much To Ask for', single may make its first appearance tonight.
When the Fetch Eddie single DOES appear, it is certain to make big waves both locally and beyond. The band have already gained a good reputation in Birmingham and their success in the MUSICBOX poll proves they have a lot of interest on the local scene.
As a live band they are strong and professional, and if you look good, entertaining pop then don't miss tonight's show.
Also bursting with confidence tonight will be headliners A5, the band who had hoped to release 'Society Girl' as their first 45 this month, have now put it out as a tape instead and it has already been played by the John Peel show. For those who don't know A5's music has a powerful new wave feel which mixes thumping bass lines with intelligent guitar work to produce a sound which leads to a plethora of comparisons. For the first time locally, the band will be introducing their two new female backing singers who have added a subtle edge to the raw, rock sound and should mean the band have even more to offer the listener.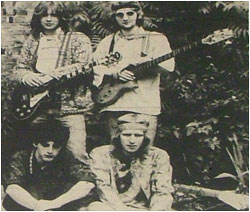 Completing the show are Atherstonian's The New Age Gypsies, a band yet to play a bad concert at the Arts Centre. The group who came with a reputation as a 'hippy, hippy hooray' outfit have as much in common with groups like The Cult as with late-Sixties mindbenders and their overall attack is of meaty rock with unpredicatable edges.
The three band show (and remember it is tonight (Friday), not the traditional Sunday concert) looks set to be a highly-successful ear-battering covering everything from the pop lightweight to the Tyson heavyweight. It should be an enjoyable night out to get along and have a triple dose of delight.
Tamworth Herald - 29/01/88
Musicbox – Lure of the soul folk
SOUL fans from all over Britain will be coming to Hopwas in February for a disco which aims to recreate the halcyon days of the Casino, the Torch and Twisted Wheel and the Top of the World all-nighters.
The event – at the Chequers pub – is being organised by some of the country's best known names in Northern Soul, irrepressible Tamworth soul master Leigh Smart. The music will range from Tamla Motown through to the best in deep and Northern Soul, and it all happens on Friday, February 19.
Further details will be released nearer the time but tickets which are priced at £2.50 and include a free buffet supper, are available from Herald reporter Dan Collins (who is DJ-ing on the night) or the Chequers itself.
Tamworth Herald - 29/01/88
Musicbox – SNIPS
The talented Rape in Yellow – who recently played a show to 300 bemused skinheads – are on the lookout for a non-skinhead drummer. The band whose music covers everything from The Cure to The Beatles are due to go into the studio shortly and want a drummer for both live and studio work.

Tamworth Herald - 29/01/88
Musicbox – SNIPS
The Tamworth Rock Festival got off to the best possible date on Sunday night when nearly 30 bands turned up for the opening meeting. The new date of July 16/17 was agreed although it sadly looks as though MUSICBOX band of the year Dance Stance will be unable to play due to holiday commitments.
Of those that were represented the majority had never played at the festival before, proving once again that the area's music scene is continuing to produce new, exciting bands at a refreshingly alarming rate.
Tamworth Herald - 29/01/88
Musicbox – Arts Centre stages new-look 'Battle'
Salute the best in new rock talent
TAMWORTH ARTS Centre is to stage a new version of the annual 'Battle of the Bands' in February – featuring only bands who are new to the scene. The idea was to turn the event into a 'Most Promising Band of the Year' contest and it has been thrown open to any group who have emerged since the last 'Battle' of 1987.
Already 15 groups have been nominated to take part over three heats in February. The winners on each night will then be invited to a gala final on Friday, march 4 with a £75 prize and Young People's Arts Festival awards for the eventual victors.
Among the better known bands who will be involved are Fetch Eddie, The Conspiracy and Kubla Khan, but the event will also be the platform for first ever concerts by groups such as The BBC, Mr. Cyn and DHSS.
Although there may be slight alterations before the finalised line-ups, the current running order and the new 'Battle of the Bands' is as follows:
SUNDAY FEBRUARY 7:
Torn in Two, The Conspiracy, Scream Dream, The Cuddly Spiders and Future Field.
SUNDAY FEBRUARY 14:
New Age Gypsies, Mr Cyn, Fetch Eddie, Jim Crows, The Band With No Name.
SUNDAY FEBRUARY 28:
DHSS, Kraze, Kubla Khan, Spiral Eye, The BBC.
On each night the judges will be made up of members of longer-established Tamworth bands such as Wolfsbane, Catch 23, A5, Rape In Yellow, Depth Charge (now called Never Say Die) and so on. It will be their job to pick one winner from each night, who will go forward to a grand final along with the second highest-scoring group.
For the winners there will be cash and trophy prizes, but perhaps more importantly, the title of Tamworth's Most Promising Band of 1988.
On each of the heat nights the bands – who cover everything across the rock spectrum – will have just 20 minutes to impress the judges, and with five bands on each night no-one should have anytime to get bored!
We will give more details of each of the concerts in the next couple of weeks but for the time being clear your Sunday evenings in February and get ready to salute the best in new rock talent within this music barmy area.
Tamworth Herald - 29/01/88
Musicbox – Stunners – and the stunning apathy
Gig Review
Roulette – Arts Centre
WHO ARE THIS band and why have I never heard of them? Five lads from Walsall with a great line in commercial rock songs, good stagecraft and big smiles, astonished a cynical audience with their talents.
I expected nothing from them and they gave everything. And with a song called 'Fatal Attraction', they can't go wrong can they? Highly recommended.
MARTIN WARRILOW
Pariah – The Arts Centre
STAFFORD'S Pariah burst noisily into Tamworth, which yawned loudly and totally ignored them. Some entertaining punk riffs dressed up as heavy rock, a few catchy tunes, most of which sounded like shambolic Hanoi Rocks, and a magnificently awful lead vocalist. I quite liked him actually, although their departure was greeted with stunning apathy. Seven out of ten for effort.
MARTIN WARRILOW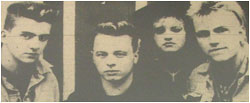 The Conspiracy – The Arts Centre
A MORE aggressive, punchy set this from a band who now seems more aware of what they want and how they can achieve it. Visually they have improved (the excellent Paul Bethel bounces around like the stage is made of rubber) and musically they have turned individual talents into united strength.
Best song of the night was the mesmerising 'Innocents' which combined their modern day …with their heady-day punk sound. It featured some frenetic work by Sonny on drums and some subtle touches by singer Lisa Cooke. A strong intelligent set from one of Tamworth's greatest recent finds.
SAM HOLLIDAY
Shellshock – The Arts Centre
Like a bottle of decent wine, Shellshock have certainly improved with age. What started off as an enthusiastic if occasionally hit-or-miss HM crew has developed into an independent, ambitious and highly entertaining metal outfit.
As musicians they have come on leaps and bounds (Graham's guitar work is particularly accomplished these days) and as songwriters they have improved and perfected their craft at an admirably consistent rate.
Two outstanding tracks in my mind, one the catchy 'Givin' It All' the other the very strong 'One Way love' but these were the mere peaks of a range of successful ideas. An admirable set from a band to admire.
SAM HOLLIDAY
Jim Lampi – Tamworth Arts Centre
A very impressive set from an excellent musician. Jim Lampi demonstrated the massive potential of the Chapman Stick to great effect with music ranging from reggae, through fuzz distorted rock, to jazz standards.
It's a shame the concert wasn't better attended but those who did were treated to a dazzling display of technical ability on this versatile new instrument.
RICHARD REEVES