Tamworth Bands History : 1988 :
October
02/10/88
David Allen (Gong)
Spiral Eye
Ozric Tentacles
Magic Mushroom Band
Tubilah Dog
Moseley Dance Centre
06/10/88
Fetch Eddie
Ozone Farm
Watch With Mother
Hummingbird
07/10/88
True Grit
Catch 23
Tamworth Arts Centre
Tamworth Herald - 07/10/88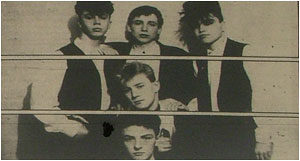 Musicbox – Arts Centre set for true style
TAMWORTH Arts Centre opens its doors this weekend to an exciting concert which combines the best of the local scene with a top Midlands group.
Tonight (Friday) the mighty True Grit join forces with Atherstone hot-shots Catch 23 for potentially one of the best shows of the year. Tonight's double-header promises to be quite a crowd puller. True Grit, under their former banner of Strap On Jack, became probably Tamworth's favourite import in the old Rathole days playing a mass of concerts which earned them wide acclaim. Now they have found themselves a new name and have just released their debut album 'The Black Country'. Tonight's concert is part of a national tour which the band are hoping will extend their sphere of influence beyond the Birmingham area where they are already massive. Their live show is said to have refined and improved still more over the past few months and for all those that remember the gutsy r 'n' b power-drive performed by the trio that makes the whole thing sound very enticing indeed.
Teaming up with them are Catch 23 a band who remember Strap on Jack with affection and were very pleased to be able to join forces with them. The group have been busy rehearsing of late and are now getting everything right before launching their new single 'Hangin' On'. They were quite happy to stay away from live performances for some time but the lure of joining with True Grit proved too much and they should help to make a fun night of high energy pop music. It starts at 8pm and looks like being a great show.
Tamworth Herald - 07/10/88
Musicbox – All hail the new Bros!


OK. Here is a challenge to all of you Bros fans out there. The next time you feel remotely inclined to go and see Bros can I suggest instead that you go and see Stench!
Like Bros, Stench are a happy three piece with short haircuts and nice tunes. Admittedly that is pretty much where the similarity ends but I just can't help feeling it would do Brosettes (or whatever they are called) tremendous good to see a real band like Stench.
Despite their frightening name, frightening look and frightening song-titles, Stench are really a trio of pussycats. They sing about psychos, acid-heads and Jack the Ripper with big Bros-like smiles on their face and despite the impression their image suggests, they are the sort of cuddly chaps mothers love to smother.
The thing above all about Stench's psychobilly trip is that it is tremendous fun. All the songs are based around the wicked double-bass playing of Nick Plant and it all sounds like the sort of stuff Duane Eddy would have performed if he had known Ben Johnson's doctor. It's racy, pacy stuff, a fun jaunt which manages to combine the feel of the Fifties with the grit of the Eighties and is ideal for toe-tappers and wreckers alike.
Stench are unlike anything else Tamworth has ever produced and are a band who would go down a storm if they played the outdoor Festival next year. A great dance band suitable for wedding, christenings or orgies.
Sam Holliday
Tamworth Herald - 07/10/88
Musicbox – SNIPS
Festival in financial success shock horror!
The Tamworth Rock Festival (amazingly) ended up in credit this year. Despite an outlay which for the first time went past the £1,000 barrier, the Festival has managed to end up in the black (these Goths get everywhere). That long-awaited post-festival video party will hopefully take place shortly when plans for next year's event will be discussed.
Tamworth Herald - 07/10/88
Musicbox – SNIPS
Scream Dream's neo-legendary drummer Duane celebrates his 21st birthday tonight – in High Wycombe. For Duane and his fellow Dreamers are taking part in a show tonight at high Wycombe (described by Paul Keeton as the 'centre of the rock and roll universe') and are hoping to celebrate Duane's birthday a little closer to home next week. We will have more details in next week's BirthdayBOB.
Tamworth Herald - 07/10/88
Musicbox – SNIPS
Nightshade, Mike Fleming's Seventies-based rock outfit are looking for a group to support at a future Arts Centre show. The group who made their debut at the Festival, want to join forced with any band of a similar disposition.
Tamworth Herald - 07/10/88
Musicbox – SNIPS
This week's Wolfsbane update – their debut single 'Loco' will be out at the end of October on London Records. FAR more important, Jeff sent me a postcard last week to say that he has found a pub in America that sells Newcastle Brown Ale and all his problems are now over!
Tamworth Herald - 07/10/88
Musicbox – SNIPS
It's official – Tamworth is a weird place. Who said so? Totally unweird Julian Cope of course in his latest Sounds interview.
Tamworth Herald - 07/10/88
Musicbox – SNIPS
The Dance Stance tour is due to hit North Staffs Poly tonight (Friday). The show is the first of two Dance Stance will be playing at the Poly in consecutive weeks. Next Friday they play the Stoke site of the Poly while tonight it is the Stafford site which welcomes the soul warriors.
Tamworth Herald - 14/10/88
Musicbox – Fat can be fab fun!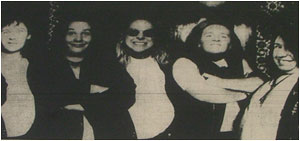 A 'new' Tamworth band under the monicker of Fat Duane's Party are in action at the Arts Centre on Sunday alongside a top Coventry outfit.
The Tamworth group will be teaming up with passion-bearers Burn the Juke Box who they joined forces with last weekend.
Fat Duane's Party – who bear no resemblance whatsoever to any other Tamworth band alive or dead – will be making their first appearance at the Arts Centre on Sunday. Musically it is described as very fats music and although the group would not be labelled they are very keen on the sort of music produced by groups like Scream Dream for example. Other than that MUSICBOX knows nothing about this band other that they are keen on fat and no keen on Duane. Whoever Duane is!
As for support act Burn The Juke Box, well they are another mystery. All we do know is that they hail from Coventry and have a power sound which has been compared to the U2's of this world (Who hasn't been?)
A strange looking how you may think but something tells me it won't be that strange. It's at the Arts Centre on Sunday so drag yourself along and join in the fattest party in Town.
Tamworth Herald - 14/10/88
Musicbox – Demo Selection
The might of The Macoys
The Macoys – Sugar Tears
Some kind of fun this. A tremendous three-tracker which has been lying in my bedroom for so long the band have probably released sixteen albums, split up and had their lead singer assassinated since they recorded it. BIT! However late I am I still must go on the record and say that this is quite one of the fabbest tapes in my local demo collection which now runs into hundreds. It is a real punch0driven piece of power which quite belies the past of those involved and offers very encouraging signs for the future. Best of the bunch is the corking 'Thunder Town' a clear, concise strong pop song which like the other two tracks contained herewith owes more to late Seventies new wave than early eighties post Industrial-modernist pop. Elsewhere the tape includes some marvellous rhythm playing (Dave Burgess is a hell of a drummer) and some sizzling guitar work, Great band, great tape.
Fetch Eddie – Mean Tin O' Beans
It's took a very long time for this new demo to finally surface but all the wait seems worthwhile. This new four tracker will further convince those of us that are committed to the band and should hopefully win over many that are not. Best of the four are the two tracks in the middle – 'Teachers Lemonette' and 'I Think That I Love You'. The former is an unexpected joy, a bubbling 50s rockabilly jaunt with some stylish rhythm work, the usual amazing vocal and a surprise burst of harmonica at the end, 'I think That I love You' is let down slightly by a lack-lustre muffled production but still retains its basic high-energy, high-jinks sound and remains to my ears the nearest thing any local band has come to a piece of pure pop. The tape is completed by the punchy title track and a splendid acoustic version of 'Mar. Sharp'. All in all a perfect introduction into the multi-faceted talent of a multi-faceted band. The business.
Emma Gibbs – Circles
Sensitive, almost shy offering which is highly personal and highly impressive. Taken away from the arrogant stage posturings it shows Lee Revelle at his warmest and most musically intelligent and is a perfect if somewhat unexpected accompaniment to the act of verbal love-making. 'You'll Enjoy It When you Get There' is cute and classy but 'In Circles' is even better and is dramatically effective in the three forms it is here presented. A major surprise of major standing.
DHSS – The Vicars EP
Tremendous five-and-a-half tracker which answers everything you wanted to know about DHSS but were afraid to ask. It combines the filth and the fury with the style and the smile and is more fun than being sat on by an elephant. The lyrics are a disgrace to civilised man and the tunes have all the subtlety and charm of Selwyn Frogett. If you want to hear inoffensive pop music buy something else. If you want to stomp, snarl and giggle but this. Pure punk for now people. Hear it and die happy. Ignore it and die anyway.
The Non-Existent – About Time You Slagged Someone Off EP
A lot of people – who don't understand my philosophy – claim that I ALWAYS write nice reviews as with the above collection. Well here at last is a Tamworth band I can really slaughter. They are really awful, dreadful, useless, talentless, boring. Dull, meaningless and hopeless. Joke name, joke songs, joke band. The whole things is a joke.
Geddit?
All reviews by SAM HOLLIDAY
Tamworth Herald - 14/10/88
Musicbox – Everyday in every way
Catch 23 – Arts Centre
I have literally lost count of the times I have seen this band now. What keeps me going back? That's easy – belief. From (almost) the start I saw a spark in this band which could ignite into a veritable fire and slowly but surely that fire is beginning to blaze powerfully. This was one of their best ever shows in mine and one or two other people's opinions because it shows that yesterday's schoolboy-popsters are gradually becoming tomorrow's adult pop stars. They are maturing by the day and most noteably in the sphere of Ray Clenshaw's songwriting. Tonight's opener for example 'Cathc This' was an utter classic and was the sort of dramatic dance sound the band would never have attempted in the old days. Elsewhere even the cover versions were over-shadowed by the likes of 'Hangin' On' and 'Don't Tell me' and it seems the band are now clearly defining their pop sound as a perfect fusion of the late sixties, late seventies AND late eighties. Catch 23 have everything going for them – age, ability, charisma and songwriting consistency. The only thing now missing is a record contract and after performances like this they no longer need one, they DESERVE one.
Tamworth Herald - 14/10/88
Musicbox – True Grit – Arts Centre
Easily one of the LOUDEST bands ever to hit the Arts Centre and in a lot of people's view one of the best. The group have now hardened their act from the old Strap On jack days and the emphasis is now on 'attack, attack, attack' with guitar-sounds blasting at you from every angle. It was all shock-rock with anger and contained all the strength of a manic piledriver. Racy, pacy gear chaps.
SH
Tamworth Herald - 14/10/88
Musicbox – SNIPS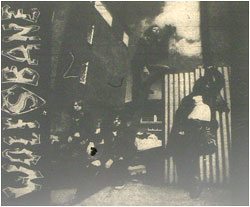 Wolfie Sell-out shock
The debut Wolfsbane single is now out – and it's already a sell-out success. The first batches of the 'Loco' EP appeared in two Tamworth record shops on Saturday morning and promptly sold out within a couple of hours leaving a lot of people frustrated and single-less. New batches were due to arrive this week and hopefully we will give all the fax next week. Incidentally Jeff's dad Ray rang to say that the single is already being played three times a day on American radio and all the indications are that it is creating quite a buzz across the Atlantic.
Tamworth Herald - 14/10/88
Musicbox – SNIPS
MAGNUM's Tamworth-based fan club supreme, Ollie Catley, has written to MUSICBOX to correct our story on the band a couple of weeks ago. In it we suggested that the band had played a concert in Northern Ireland to a disappointingly low crowd. Well, it seems out sources were wrong as no less than 3,000 people turned up which is hardly a few!. Incidentally the band, fronted by Tamworth man, Bob Catley, will be in action at Birmingham NEC Arena shortly and have also booked in another Belfast date as well as no less than three nights at Hammersmith Odeon, loveable Ollie as she is know to all and sundry concludes her letter with the p.s…'Bob Catley is a great fan of Tamworth's most famous band Wolfsbane and is often seen around in their tee-shirt in places where it is noticed." Clearly a man of major taste.
Tamworth Herald - 14/10/88
Musicbox – SNIPS
The Space Seeds have announced details of their only four shows for the rest of 1988. On Tuesday December 6 they will be in action at the Lord Nelson in Derby on Thursday December 8 they are at the White Horse, Oadby and on Thursday December 19 they are at the Greyhound in Burntwood. Completing the dates is a special party night at the Arts Centre on Sunday December 28, more details when we get them.
Tamworth Herald - 14/10/88
Musicbox – SNIPS
A heavy metal band, under the very intriguing name of Naked Death Plunge are on the lookout for a drummer.
Tamworth Herald - 14/10/88
Musicbox – SNIPS
DHSS were due to travel down to London on Monday to discuss a possible record deal with a label that was mightily impressed by their 'Vicar's' Demo. More details, when and if, the band become recording superstars.
Tamworth Herald - 14/10/88
Musicbox – SNIPS
Catch 23 singer Steve Webster was minus one of his biggest fans at last weekend's Arts Centre show. For Steve's girlfriend Joanne had to work on Friday night and missed the show. No problem there of course until you realise that she COULD have had the night off but decided to have the previous night off – to go and see Fetch Eddie! Steve looked suitably miffed but admired Joanne's taste!
Tamworth Herald - 21/10/88
Musicbox – Single of the Week
Wolfsbane – Wasted But Dangerous
Yes, here it is. After weeks, months and years of waiting here is the first vinyl proof that one of our bands has arrived in the BIG TIME. This yummy four track e.p. is full of metallic joys and shows that the Wolfies have made the leap into the vinyl world with complete comfort and ease. Big Wolfie fans will already have this collection in cassette form but the superb production and excellent packaging make it an essential buy for everybody who lives within this rock and roll borough. Best of the four is the tremendous live favourite 'Limo' which contains all those sleaze and power ingredients that has made it a metal classic. Elsewhere 'Loco' (the sort of A side which is getting all the American airplay) is a punch-driven slice of mayhem with some wicked Jase The Ace guitar playing and to complete the picture we have 'Dance Dirty' and the sizzling 'Killer' both of which burn the stylus. This is designed as a appetite whetter before the Rick Rubin produced stuff comes out in February but I think it will be seen as far more than that coz it is WELL groovy. Buy it now or forever bury your head in the sand schmucks.
Review Sam Holliday
Tamworth Herald - 21/10/88
Musicbox – Double delight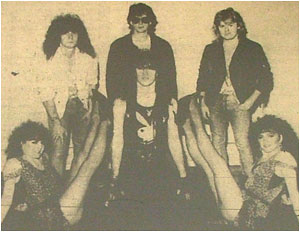 TAMWORTH Arts Centre stages two different shows this weekend with an element of the 'new' to them both.
Tonight (Friday) sees the new Kraze line-up make their Tamworth debut and then on Sunday the first major show by Press takes place with relatively new Tamworth band Sa Sa in support.
Here are details of the two shows which are certain to grad the attention of local gig-goers.
KRAZE – Tamworth Arts Centre, Friday
Kraze are hardly a new name in the Arts Centre world but what is new is their line-up. Joining the established names like Mitch, Rob and Al is new guitarist Tim Latham who will be making his live Kraze debut tonight. Tim, regarded by a lot of people (me included) as probably the best remaining guitarist in the Town, has played with a mass of bands in the past, noteably Omen and One On One and this is certainly the heaviest band he has teamed up with. Kraze are said to be delighted with their hot new property and if you want to see how this new marriage works out then there is only one place (the Arts Centre) to be tonight. MUSICBOX scribe Martin Warrilow is already wetting his pants in anticipation and it certainly looks like being a very interesting night for Kraze, their supporters and of course Uncle Tim Latham himself. Support act will be much acclaimed Lichfield rockers Roma making for a double helping of metal power.
PRESS/SA SA – Tamworth Arts Centre, Sunday
The first major show from new local band Press and one which is already set to be a sell out success. The band have amazingly managed to sell 150 advance tickets and they have warned gig-goers that only the first 50 will be allowed in at the door without tickets. Press are made up of a mixture of new and more experienced musicians comprising Brendan Curran, Gary hill, Pete Whipps, Andy Davies and Mark Cox. Musically the band prefer to let people make their own mind up but they have earned comparisons with the likes of Level 42 and Simple Minds. Supporting them will be Sa Sa who made such an impressive recent Arts Centre debut. Like Press, Sa Sa boast a very commercial sound but they are more geared to pop than rock. A very interesting band and one who should prove a useful foil to Press and make for an enjoyable double header.
Tamworth Herald - 21/10/88
Musicbox – SNIPS
FAT DUANE's Party have apologised for the cancellation of their show on Sunday alongside Coventry popsters Burn The Juke Box. A hitch with the p.a. made it impossible to carry on and the band have said sorry to all their fans for the non-event.
Tamworth Herald - 21/10/88
Musicbox – SNIPS
DHSS are set to make their first major out of town performance at the start of November when they play the Tunnel Club in London. The band are hoping to take a coachload of fans along for the bash, anyone interested should contact Rikk Quay at the Tavern. Other DHSS shows are being planned throughout the Midlands as we speak. Incidentally the band's meeting with an interested record company last week did not go quite along the lines they were hoping. In the words of Rikk Quay the whole thing was a "******* rip-off!"
Tamworth Herald - 21/10/88
Musicbox – SNIPS
The world's most persistent pop star is back again! The legendary Samantha Law who has now had more adverts in this paper than the Co-op is still searching for a pop band with which to marry the talents of her vocal. Her last attempt to form a band met with only limited success so this time she is going back to the original plan of trying to join an established local band. Interested?
Tamworth Herald - 21/10/88
Musicbox – SNIPS
Spiral Eye are on the lookout for a new keyboard player following Rem's decision to travel to Wales and discover fungi. Rem and the boys have parted amicably and a new key-tinkler is sought. According to Jim, strangeness and a love of odd sounds is more important than basic experience so if your up to (or down to) the billing…
Tamworth Herald - 21/10/88
Musicbox – SNIPS
Fetch Eddie have parted company with drummer Johnny Rimshot. The decision made by the band is said to be one of the hardest they have ever had to make and they have wished John all the best for the future. The band are now rehearsing several possible replacements, more details as and when we get them.
21/10/88
Kraze
Tamworth Arts Centre
22/10/88
Press
Sa Sa
Tamworth Arts Centre
Tamworth Herald - 28/10/88
Musicbox – SNIPS
Tamworthians – You are all barmy!
Uncle Julian Cope has been waxing lyrical about Tamworth again. Former MUSICBOX writer Cathy Pettigrew (who now works for the Press Association) sent me a copy of an interview with Copey in the London Evening Standard which read…
"I came from Tamworth and that is far weirder than London. Almost everybody is severely off their box there! Julian currently touring to promote his 'My Nation Underground' album, went on to tell the Standard about one particular local eccentric as he may be possible be reading this I will save his blushes…
Incidentally, still with the Copey entourage his album notes describe our own Donald Skinner as being 'the main man' and the impression is that rather than just being a supporting musician, Donald Ross Skinner is now Copey's tight-hand man and his undoubted second in command. Good news indeed and another important step on the road to Tamworth's inevitable domination of the rock and roll world.
Tamworth Herald - 28/10/88
Musicbox – SNIPS
A talented bass player has put himself on the 'market'. He says he can handle all styles of music and can provide excellent equipment to work in the studio or on stage.
Tamworth Herald - 28/10/88
Musicbox – SNIPS
Fetch Eddie are auditioning a trio of top class drummers as a replacement for Johnny Rimshot. The trio are all from top bands including the former drummer of Musical youth of 'Pass the Duchy' fame who became childhood megastars. We will have details of the finals election when we get them but in the meantime here are one or two Fetch Eddie dates for your diaries – Nov 6 The Hummingbird, Birmingham, Nov 11 – Birmingham Poly, Nov 15, The Sir Robbie, Finsbury Park, London, Nov 20 – piranhas. A date in Wellingborough of all places is also in the offing.
Tamworth Herald - 28/10/88
Musicbox – SNIPS
The Space Seeds have added another date. They will be on action at Knights, Lichfield on November 2 in what looks set to be the first in a series of shows at the venue. The band have announced that their Christmas Party sate at the Arts Centre will be headlined by Scream Dream with another band called in .
Tamworth Herald - 28/10/88
Musicbox – SNIPS
The Soil Brothers, DHSS and The Yogots will combine to play a special Christmas Party night at the Arts Centre at the tailend of December. More details when we have them.
Tamworth Herald - 28/10/88
Musicbox – SNIPS
Just a bit of advance notice, we will be launching our now legendary MUSICBOX poll in a couple of weeks so get those minds working on who will get the BOX bouquets.
Tamworth Herald - 28/10/88
Musicbox – 'When you go will you send me, a letter from America'
I promised readers that when I got Wolfie postcards I would print them and here is the third such postcard which arrived last week. It was backed with a picture of Hollywood and in case you are struggling to read it it includes such instructions as buy 100 copies of the EP. The previous two cards from Jeff included such tantalising details as Bayley apparently being sent to Mexico and the like, but this is the most newsy one so I have decided to print it to keep all you Wolfsbanians content…
Tamworth Herald - 28/10/88
Musicbox – Titan Tim!
Kraze/Roma – Tamworth Arts Centre
IN A WORD, magnificent. The Arts Centre was packed out to witness Kraze's first home town gig for rather too long and my heavens did they deliver.
Stripped down to a six piece, and now including the almost legendary Tim Latham on guitar, they started spectacularly and just got better.
Arriving on stage amid a cascade of flashbombs, they piled into 'Kraze Love to Rock' and it was obvious that this was a new, more confident, and even better band. The talents of Mr. Latham are given full range, because this is a band than now plays guitar solos, and very good ones too. Almost every song in the set gets new life and new drive, and there seems to be an air of even more fun than before in the band's efforts.
The new boy is also adding to the band's considerable songwriting skills, contributing tunes like: "Love American Style" which to these ears sounds like the sort of quality FM rock that would go down a storm in California. Know what I mean.
Added to the band's existing selection of tunes with hooks and choruses so catchy you could nab sharks with them, it just takes the band onto a new and even more impressive level. If you will, it's a bit like Liverpool signing Glenn Hoddle. They've been turned from very good but slightly functional into absolutely spectacular, much
More spontaneous and even more fun.
But it wasn't just the new boy who impressed. Everyone seemed to be enjoying the band's new found spark, the girls (despite the appalling sexist element in the audience) really came to the fore in tunes like "Sweet 'n' Sassy" and the highly entertaining "Hot" and Kraze are now much more visual, with a splendid light show, gallons of dry ice and flashbombs a plenty.
I know you wouldn't expect me to say anything else, but they really lived up to expectations. I think they have finally made the move that could tale them to the top. And frankly it couldn't happen to a nicer bunch of people. Metal your girlfriend would like (And probably does).
Support band Roma are a different kettle of fish. They play metal by numbers with every rock 'n' roll cliché in the book, mid-Atlantic accents, failed audience participation, tedious guitar posing and boring songs. They probably still think Michael Schenker in the height of heavy metal guitar stars Roma are big in Lichfield and that's where they will stay.
Review Martin Warrilow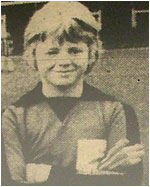 Tamworth Herald - 28/10/88
Musicbox – Cutie Pie of the Week
THIS lovely looking feller is the first recipient of the MUSICBOX Cutie Pie of the Week Award.
This all-new feature (a sort of nice version of Rogues Gallery) is an attempt to show your favourite local pop stars in the days before they became rock and roll wrecks and their mothers still had good reason to be proud of them.
This first winner is Scream Dream supreme Paul Keeton as I am sure you could tell immediately. Paul is pictured here as a former goalkeeper for the Gillway Boys Football Club in the days when Sacred Oath, The Cradle and Scream Dream were still many, many moons away. Did this man take up the wrong career we ask ourselves?
Any more cutie pie nominations and photos will be gleefully snapped up by MUSICBOX.