Tamworth Bands History : 1990
| | | |
| --- | --- | --- |
| | UK Number Ones - 1990 | |
Week Ending
Act
Title
13/01/90
New Kids On The Block
Hangin' Tough
27/01/90
Kylie Minogue
Tears On My Pillow
03/02/90
Sinead O'Connor
Nothing Compares To You
03/03/90
Beats International
Dub Be Good To Me
31/03/90
Snap
The Power
14/04/90
Madonna
Vogue
12/05/90
Adamski
Killer
09/06/90
EnglandNewOrder
World In Motion
23/06/90
Elton John
Sacrifice / Healing Hands
28/07/90
Partners In Kryme
Turtle Power
25/08/90
Bombalurina
Itsy Bitsy Teeny Weeny Yellow Polker Dot Bikini
15/09/90
Steve Miller Band
The Joker
29/09/90
Maria McKee
Show Me Heaven
27/10/90
Beautiful South
A Little Time
03/11/90
Righteous Brothers
Unchained Melody
01/12/90
Vanilla Ice
Ice Ice Baby
22/12/90
Xmas No 1
Cliff Richard
Saviour's Day
| | | |
| --- | --- | --- |
| | In the News - 1990 | |
•

Nelson Mandela released from prison in South Africa.


•

Hubble space telescope launched.


•

Sam Holliday writes a 'bad' review in the Tamworth Herald Musicbox column.


•

Microsoft introduces Windows 3.0.


•

Anti Poll Tax protests in London, turn into a riot.


•

British Prime Minister, Margaret Thatcher resigns.


•

Sam Holliday resigns as Tamworth Rock Festival chairman


•

Tim Berners-Lee invents "The Worldwide Web".


•

Milli Vanilli are stripped of their Grammy Award after it emerges that they did not sing at all on their album.


•

Sam Holliday writes his final Musicbox column.


•

Edward ian Armchair retires.
---
Well! So I've finally reached the end of the line. Finally reached the history of 1990 and I can't go any further - I need my life back!! So, this is it, the last year in the history of Tamworth bands - until some other sad individual decides to write the history from 1991 to the present day.
And what a year on which to end this fascinating tale.
1990 began with two ongoing debates within the columns of Musicbox. Carl Harris from Big Noise had written a very critical letter about the Arts Centre. Carl complained about the acoustics and the hire charges and the fact that the bar was making lots of money. Other bands were more positive and staged fundraising concerts to help the Centre improve the facilities. But Carl's letter prompted a flood of letters to the Herald. The second debate of 1990 concerned the demise of the once great DHSS and the reasons for the band splitting up. Edward ian Armchair had his side of the story, Rikk Quay, John Reeman and Anice had theirs. The debate raged on, only to be replaced later in the year by even more caustic words in the Herald as the massed ranks of Musicbox scribes took it in turn to write damning reviews of Edward ian Armchair's new incarnation of The DHSS. A shame in particular for Jessica and Adam who were at the start of their musical careers. A distraction from the back-stabbing for Musicbox readers was a brief series of features on great local bands of the '80s. Sam had raided the archives to feature such delights as The Dream Factory, Love On Board, Breaking Point and Sitting Pretty.

1990 was THE year of the venue in Tamworth. It started with just the Arts Centre, in January was joined by Lincolns (the new name for the Rathole above Manhattans on Church Street) and March saw Night Moves in Bolebridge Street staging gigs. It eventually reached the ridiculous state of affairs where gigs took place on a Thursday, Friday, Saturday and Sunday and on one week there were actually five gigs with three gigs taking place at three different venues on the same Sunday night. Great planning guys!
March saw the emergence of Rikk Quay's new band - Rhythm Damage and Edward ian Armchair's debut of his new version of The DHSS. On the national scene Wolfsbane released 'I Like It Hot' which entered the charts at No. 88.
The Rock Festival of 1990 will not be remembered for the 1,200 or so people who attended, for the performances of the bands or the blazing sun and concluding thunderstorm or for Lee Revelle and Mark Hynds' programme notes. It will be remembered for far sadder things.
On May 20th 1990, the usual Rock Festival meeting took place where the line-up for that year's event was announced. In a meeting that Sam described as 'tortuous' the original 20-band line-up suggested by the Committee was thrown out and a new 24-band line-up installed as a result of complaints from certain local band members. As a small, seemingly insignificant footnote to that week's main Musicbox feature on the Festival, under the headline: Festival chairman – and deputy – quits, Sam opened his heart:
"As a final (minor?) point after Sunday night's Tamworth Rock Festival meeting I have decided to quit my position as Chairman of the Tamworth Rock Festival writes Sam Holliday.

The meeting left me so depressed that I realised I no longer felt as if this was 'my' festival anymore and so as of today I no longer wish to be known as the main organiser of the Tamworth Rock Festival. I feel, without blowing my own trumpet too much, that I have been mainly responsible for the successful running of the festival since I started the two day event in 1984 but I now feel that all the reasons I originally had for getting involved have disappeared. My vision was of an event where all the band's unselfishly gave up their time and effort to produce a happy atmosphere of cooperation and a cracking concert. The cracking concert may still emerge but as I witnessed dozens of people arguing and abusing one another on Sunday I realised that the happy atmosphere had gone (possibly) for ever. The dreaded ROCK EGO ethic has taken over from the communal spirit that characterised the first few rock festivals and I went home on Sunday night to face a night without any sleep whatsoever as I worried about every aspect of the event and realised that I simply don't need all this crap anymore. I feel I have done more than enough for this rock festival and deserve more respect than I was shown on Sunday night from people who put there own bands welfare before the festival as a whole.

I will continue to do everything to promote the festival within the paper and I will stay on the committee – but after seven happy years I am now handing over the top position to someone who can control this monster better than I can and I hope it is someone I trust to have the same ideals – Den, Rikk, Bayley or Mike, for example – and I hope that if the festival goes on for 100 years there is never a meeting as bad as Sunday's again."

Sam Holliday
For Sam Holliday to say about HIS Tamworth Rock Festival "I simply don't need all this crap anymore," says it all, along with the greatest understatement of them all, when he said: "I deserve more respect than I was shown on Sunday."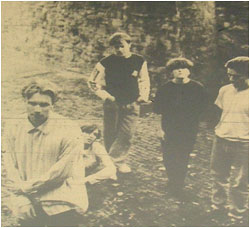 Many a letter to Musicbox followed supporting Sam, there were highly successful Indoor Rock Festival fundraising gigs and the proposed 24-band line-up ended up as 20 after-all with Rhythm Damage pulling out, the Herb Garden and the First Conspiracy splitting up and The Yogots unable to make it.
June saw the first hip hop band to grace a stage in Tamworth with the appearance of Suicide Petch 'n' The Juice MCs at the Marmion. The month also saw the marriage of Anice Byfield (ex-DHSS) and Steve MacNamee (ex-Soil Brothers). The First Conspiracy and The Herb Garden split up and Aaron James left Fetch Eddie. King Woderick and The Yogots became The Yogots and Catch 23 said they would basically do anything to achieve success including changing their name, image and musical style.
August saw a post-festival debate rage between Lee Revelle and Mike Fleming concerning their respective merits as Festival spokes-people.
The autumn saw vinyl news aplenty with Wolfsbane releasing their mini-album 'All Hell's Breaking Loose ... Down At Little Kathy Wilson's Place', Emma Gibbs Loves Badges released their debut 45 - 'Assured/Patience' - receiving airplay on the John Peel show. Spiral Eye signed a three-album deal with Rough Trade and Rhythm Damage released a four-track 12 inch EP.
On Sunday September 2nd 1990 the Tamworth Rock Festival Committee held it's AGM and convened to prepare for Festival '91 - and saw sense prevail. Votes cast saw the proposed new Festival organising committee of Mike Turner, Ian Gibbons and John Garforth trounced by the people's choice of Rikk Quay, Sean Atkins and Alan Webster with additional committee members Mike Fleming, Edward ian Armchair, Blaze Bayley, Denis Byfield, John Reeman and Councillor Dick Hudson being appointed. To conclude, Sam Holliday was made Life President.
September saw Wolfsbane start their national tour supporting Iron Maiden, Sam Holliday said goodbye to life as a single man, marrying Carla - and rounding off a wonderful day with a splendid performance on stage with Wolfsbane and his beloved Classified Ads.
December saw the brief emergence of The Foundation, with all bitterness forgotten, Edward ian Armchair had got back together with John Reeman and Anice to form a new band. Playing one gig and producing one note-perfect demo tape, this was to be the Armchair's swan song.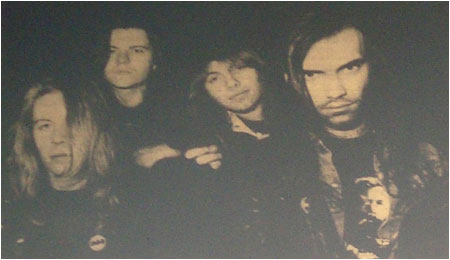 As the year had started, with a celebration of bands of the 80s, so it finished with a charity concert featuring the reunited Dream Factory and Love On Board. And, to end the year on a truly positive note, the mighty Wolfsbane swept aside all comers to claim the title of Musicbox Band of the Year. But that wasn't all, they also won the national band award AND both the single and album of the year accolades for the second year running. The band finished off the year with the biggest Rathole audience ever for their fantastic Christmas show.
And so the year ended. And what a year it had been and what a fitting year to end this history. A local Tamworth band had finally made it to the big time, with Wolfsbane playing Top of the Pops and supporting Iron Maiden on a nationwide tour. Four lads from Fazeley were now members of a nationally-known, respected and highly-successful band. Sam Holliday had resigned as Rock Festival Chairman and it was generally agreed that the spirit that had made the Tamworth Rock Festival what it was - had been lost forever. Edward ian Armchair had retired after thirteen years of performing locally in bands and as Tamworth's original punk performance poet. And finally...at the turn of the following year, one Sam Holliday announced that he was giving up Musicbox.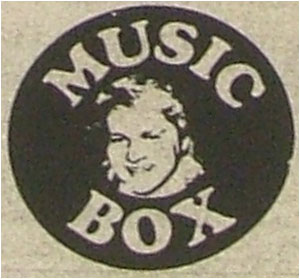 By way of explanation Sam said in his final Musicbox column: "A lot of the new bands arriving in Tamworth have an alien sound to me because I hate practically all current music and ignore most of it. I am an old punk rocker stuck in a 1977/8 time warp." He concluded: "I know for a fact that many people have disagreed violently with things I have written over the years but I hope that even my critics will be able to say that my heart was always in the right place and I never let my personal feelings about a band stop me bulling up their concerts to try and keep interest at a premium." What an understatement! Sam Holliday - the man who single-handedly took the Tamworth music scene from a three-band, going-nowhere typical local scene to the most vibrant, energetic scene of any small English town with numerous bands finally receiving national success and acclaim.
It is almost impossible to conclude the History of Tamworth Bands in a single sentence or paragraph so I'll leave it to the man himself. Here is the full transcript of Sam Holliday's final Musicbox column, I leave the last word to him - over to you Jamie...
Tamworth Herald – 11/01/91
Musicbox – Bye-Bye to Sam's Box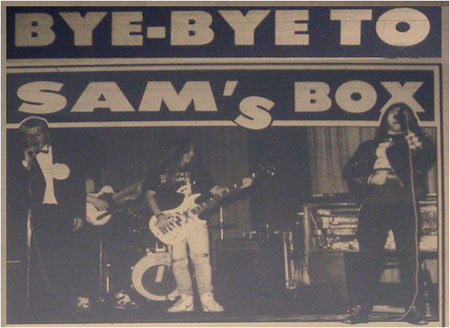 AND so we enter a New Year. A time for new resolutions, a time for new ambitions and a time for new dreams.
And, also a time for a new MUSICBOX Editor too. Yes, O'faithful MUSICBOX reader, I, James Samuel Strangler Holliday, have finally decided to knock it on the proverbial head. After nearly eight years of writing and editing this page I have decided to hand it over to a new (younger) man and let the 1991 column develop a new and exciting phase all of it's own.
As I have been your guide through the wonders of the Tamworth and Atherstone music scene for the past 389 weekly columns I hope you will now allow me the self-indulgence to look back at that period and at the same time explain why I am finally hanging up my leather jacketed pen and handing these hallowed columns over to someone else.
I first joined The Herald in July 1983 and within a week or so I had taken over the MUSICBOX desk. As the singer in an appalling punk rock band (The Classified Ads) I had already fallen in love with making and playing music and I saw in MUSICBOX a chance for the column to become the focal point of an emerging young local scene. At that time there was very little happening. There were barely six or seven local bands working but I decided to ignore what was happening nationally and concentrate solely on the local stuff in the hope that it would start to generate some interest with other would-be musos.
Slowly but surely it started to happen. Bands began to spring up from all around the Tamworth and Atherstone area and the old groups who had held sway over Tamworth for many years began to be outnumbered by raw young recruits who began to really get things buzzing. By the end of 1983 when I first launched my annual MUSICBOX poll, a scene was definitely 'happening' and in 1984 I tried to give the scene an annual focal point by setting up the Tamworth Rock Festival. The idea, which had been tried a couple of times before with limited success, was turned into something much bigger and better and at the inaugural meeting at the Tavern in the Town I was proposed as the first chairman of the all-new Festival committee by a loud, bearded chap called 'Blaze Bayley'. Such was his fame at the time that the following week in the Herald I called his band 'Wolftone'. That first two-day Festival – headlined by my old faves Sitting Pretty and The Dream Factory – was a massive success and it formed (I think) the basis of everything we call this 'scene'. It was the first time that bands of widely differing musical directions had come together with a single unified aim and I think it killed any of the usual rivalries to be found in music scenes. They still existed of course under the surface but for several days a year (in the organising and playing of the festival) groups of all shapes and sounds came together in a touching show of solidarity. It gave Tamworth a definable local music community and the success of the Rock Festival remains my proudest achievement as Editor of this column.
As the years moved on the scene got ever bigger and ever stronger. I felt it was time we got recognition for the bit we are doing for the Town and so I helped to get music accepted by the local 'establishment' with the Borough Council including us in their annual Arts Festival (via the controversial if fun 'Battle of the Bands') and by the council agreeing to help fund the Rock Festival. Now there is not a single Tamworth Borough Councillor who does not know of the Tamworth Rock festival and the presence of the Mayor at the last event shows there is now recognition from all quarters of the importance of local music.
As the 80s wore on, the bands kept piling in and great gigs became a regular rather than an occasional event. The opening of 'The Rathole' and the amazing charity work of Ian Gibbons kept Tamworth firmly on the musical map and towards the end of the decade we had seen big names like The Wonderstuff, Pop Will Eat Itself, Dr. Feelgood and more hit the town. There was now hardly a free Sunday for the local music goer and the whole area was alive with local music. All we needed now was for one of 'our' bands to finally make it. And, lo and behold, 'Wolftone' did just that!
The signing of Wolfsbane to Def Jam was one of the happiest moments I can remember. I had fallen in love with the band from the first gig (I know that sounds like a cliché but I have the review to prove it!) and I had followed them with undying admiration. The day they got signed proved to me that all the praise (and hyperbole) I had thrown at Wolfsbane and the scene in general was justified. To get phone calls from L.A., to read big interviews in 'Sounds' and to see Wolfsbane at the Marquee made all the abuse this job inevitably attracts worthwhile and it also allowed me a wry smile as the Wolfsbane bandwagon jumpers started declaring their love for them. Fickle thing the memory.
The other great smile the music scene has give me over the years has been Catch 23. This is a band who, like Wolfsbane, I loved from the start. They are five of the sweetest guys I know and the admiration I have for them – and their talent – is undiluted. Watching them win the TSB Rock School Contest (which saw them on national TV six times) and hearing them praised by stars like Stuart Adamson, Drummy Aswad, Robert Plant, Phil Oakey, Mike Read, Toyah Wilcox, Roy Wood et al made me as proud as punch and I still earnestly believe that they are the perfect pop package for the 1990s. I truly hope so.
So, looking back over seven and a half years who have been my favourite bands? Well, Wolfsbane and Catch 23 stand out as my equal firsts but my next five after that (in no particular order) are DHSS (circa 1989), Breaking Point (circa 1984-86), Spiral Eye, World Intelligence Network and Terroah! All these bands (and there's many more I could name) I have loved enormously and other such outfits as Dance Stance, Fetch Eddie, The Dream Factory and Scream (Dream) touched me deeply at times.
As for my hopes as I hang up my 'boots', well I sincerely hope that Wolfsbane DO go on to be bigger than Guns N Roses, that Catch 23 DO go on to be bigger than Duran Duran and on a personal note, that two individuals who never stop working finally make it. Rikk Quay is a man whose enthusiasm kept me going when at time I nearly walked away and I really hope he finally achieves his dream and I have the same hopes for Mark Mortimer, a man who I have never always seen eye to eye with but who I have always admired for his never-say-die attitude and his songwriting ability. If hard work and dedication won OBEs these guys would have been in the Queen's New years Honours List. In addition I really hope 'Gibbo' gets the success (and the recognition) he really deserves, that Reverb Sounds goes on to be the biggest P.A. in the known Universe and that Paul Speare's excellent studio is chosen to make the next Madonna LP.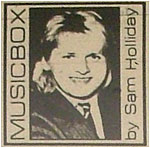 Overall, the local music scene has been good to me. It has made me many, many good life-time friends and it even helped me to meet my wife (happy birthday Carla!) but now is the time for the music scene and I to go our separate ways. I am now 27 and no longer feel qualified age-wise to write a column predominantly read by people 14-25. A lot of the new bands arriving in Tamworth have an alien sound to me because I hate practically all current music and ignore most of it. I am an old punk rocker stuck in a 1977/8 timewarp and as a result it is best for me to bow out gracefully now rather than become the Rolling Stones of the MUSICBOX columns!
I will still edit this page for the new-man (Sean Atkins) and I will still contribute reviews and views at times but to all intents and purposes, Sean Atkins is the all new MUSICBOX boss. Write to him, phone him and make his work as hard for you s I think I have.
Concluding this article is a strangely emotional business. I have loved doing this column, but feel now that the increasingly demanding role I have as Sports Editor of the Herald means it is time to say a reluctant ta-ta. I know for a fact that many people have disagreed violently with things I have written over the years but I hope that even my critics will be able to say that my heart was always in the right place and I never let my personal feelings about a band stop me bulling up their concerts to try and keep interest at a premium.
To all my very loyal readers, I say a fond farewell. It's over to you now Sean, enjoy it.
Goodbye. And thanks.
SAM HOLLIDAY
MUSICBOX Editor – 1983-1990